Youth (Un)Employment: Global Problems Meet Local Solutions
October 20, 2014

-

October 24, 2014
Why youth economic opportunities? Young people bring energy, capacity and ingenuity to economies and communities. Yet 73 million young people across the globe continue to look for work without many opportunities. We wanted to bring attention to innovative initiatives, such as the Aga Khan Rural Support Programme in Pakistan, as well as community driven initiatives in Canada, that are paving a path to increase economic opportunities for young people.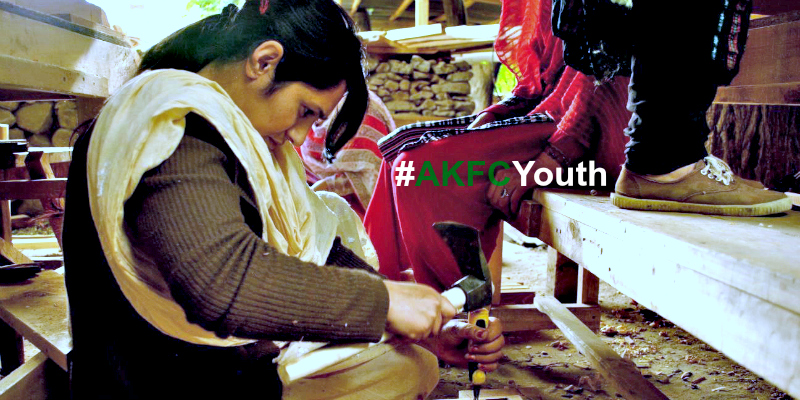 Event details:
This event has taken place at the University of Calgary, the University of Toronto, Dalhousie University, the University of Ottawa, and McGill University.
Watch the webcast:
Join the conversation: #AKFCYouth
Speakers:
Abdul Malik, General Manager, Aga Khan Rural Support Program in Pakistan
Abdul Malik has more than 12 years of professional experience in the field of development and has been General Manager of AKRSP Pakistan since 2011. At AKRSP, he is leading a number of key initiative surrounding youth development, rural livelihoods and institutional development. Previously, he worked in the United States with a number of leading institutions, including the World Bank and the Brookings Institution. Mr. Malik has primarily worked on issues surrounding aid effectiveness, migration, poverty and local development. Mr. Malik holds a Masters degree from the Kennedy School of Government at Harvard University and an MBA from LUMS Pakistan.
Erin Markel, Principal Consultant, MarketShare Associates
Currently Erin is a Principal Consultant at MarketShare Associates (MSA), a boutique consulting firm committed to supporting innovative economic development programming and results measurement. She heads MSA's Economic Opportunities practice area, which focuses on empowering women and youth. Erin has led a variety of consultancies including work with USAID, the IFC, Plan, CARE and the Aga Khan Foundation. Prior to joining MSA, Erin was a Program Manager, Market Development and Access to Finance at the Aga Khan Foundation Canada (AKFC). Past experience included working for Women's World Banking, ProMujer International and the Aspen Institute. Erin holds a Master of International Affairs in Economic and Political Development from Columbia University.
Local speakers:
Toronto – Cindy Tan, Project Director, CivicAction
Over the past five years, Cindy has contributed to CivicAction's work driving multisectoral collaboration on issues ranging from transportation, leadership diversity, to regional economic cooperation. Cindy is now project director of CivicAction's newest initiative, Escalator: Jobs for Youth Facing Barriers. She also oversees CivicAction's DiverseCity Fellows program and Emerging Leaders Network (ELN), two initiatives that are nurturing the next generation of city-builders and changing the face of our region's leadership. Prior to this, Cindy spent almost a decade focused on social, economic, and cultural change in China, including managing a poverty reduction grants program. She has degrees in anthropology, political science and women's studies. Cindy is passionate about supporting others to reach their potential and bring about change in their lives and in their communities.
Halifax – Denise De Long, Project Manager, Greater Halifax Partnership
Denise manages the Halifax Connector Program – a networking program that helps local and international graduates connects people with business leaders and better succeed in Halifax. She has an M.Ed is in Educational Policy (International/Global) and a graduate diploma in Adult Education. Her background spans 20 years of intercultural communication training and teacher training in Canada, Taiwan and China. Denise also provides support to the National Connector Program that is being replicated in cities across Canada. Denise worked in educational project management and program development across Alberta. Since returning to Halifax in 2008, Denise has worked at Immigrant Settlement and Integration Services and Dalhousie University. She has been a certified administrator for the Intercultural Development Inventory (IDI) and has lead workshops for teachers and faculty.
Ottawa – Gordon Betcherman, Professor in the School of International Development and Global Studies at the University of Ottawa
Gordon Betcherman is a Professor in the School of International Development and Global Studies at the University of Ottawa, with a cross appointment to the Graduate School of Public and International Affairs. He is the Supervisor of the doctoral program in International Development at the University of Ottawa. Dr. Betcherman is also a Research Fellow at the Institute for the Study of Labor (IZA) in Germany. His research interests are in labor economics, demography, social policy, and the economics of development. His most recent publications are on the impacts of labor market institutions in developing countries. He was a co-author of the World Bank's 2013 World Development Report on Jobs. Dr. Betcherman joined the University of Ottawa in 2009 after 11 years at the World Bank where he last was Sector Manager and Lead Economist in the Human Development Sector, Europe and Central Asia Region. He holds a PhD from the University of California at Los Angeles.
Montreal – Darlene Hnatchuk, Director, Career Planning Service (CaPS), McGill University
Darlene is Director at CaPS, McGill's central career services. She works with employers who want to connect with and recruit the great talent at McGill, and assists students in understanding and articulating the skills and qualities they have developed through their experiences. Darlene has worked in career services for over thirteen years in universities and non-profit organizations where she has focused on youth employment and career development. She was previously on the board of directors for the Canadian Association of Career Educators and Employers. She is currently on a mission to promote increased experiential learning opportunities for students. Darlene holds a master's degree in organizational development from Université Laval.
This event was undertaken with the financial support of the Government of Canada through the Department of Foreign Affairs, Trade and Development.