Conrad Koczorowski is a manager on Aga Khan Foundation Canada's program team, overseeing initiatives in Afghanistan that empower women in their social and economic lives. To mark Gender Equality Week at the end of September, we sat down with Conrad to learn more about his work and a recent trip to Bamyan province.
You recently visited our women's empowerment programming in Afghanistan. What was the most memorable part of your trip?
This July I travelled for a week to Bamyan province, located in the central highlands of Afghanistan. Bamyan is very mountainous and it took us hours of white-knuckled driving to travel between each community. Seeing the peaks, the narrow roads, and the distances between villages made me appreciate the work that my Afghan colleagues do on a daily basis, just to access these communities.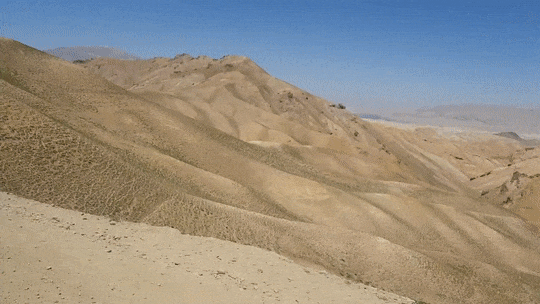 It was on these mountainous roads, in remote Waras district, that I had an experience I'll never forget. We had just rounded a bend in the road after visiting a thriving women's sheep enterprise when we saw something highly unusual in Afghanistan – two young women cruising down the road on a motorcycle. While women's ability to travel on their own ("women's mobility," as we say in development jargon) is significantly more advanced in Bamyan than in other parts of the country, it's almost unheard of to see women driving a motorized vehicle.
My colleague, Mahmooda, signalled our driver to pull over and ran after the women. As a young Afghan woman, she too was transfixed. The two young women, Aziza (driver) and Zuhra (passenger), had just finished their midday meal and were on their way to one of their final classes at their high school.
What makes this story so remarkable to me is that they were not directly connected to our women's empowerment program in the district. However, due to the softening of stances on women's mobility, something we have deliberately worked on with local religious and traditional leaders, young women in the area are increasingly encouraged to pursue education and work, and to travel freely. For Aziza and Zuhra this meant harnessing horse-power, and racing past their male classmates on their way to school!
Aziza and Zuhra – who were joking unabashedly with Mahmooda in Dari – represented two things to me: hope for a brighter future, definitely; but are also proof that our programming can be a positive force, impacting the day-to-day quality of life of two laughing girls who have never even heard of our program.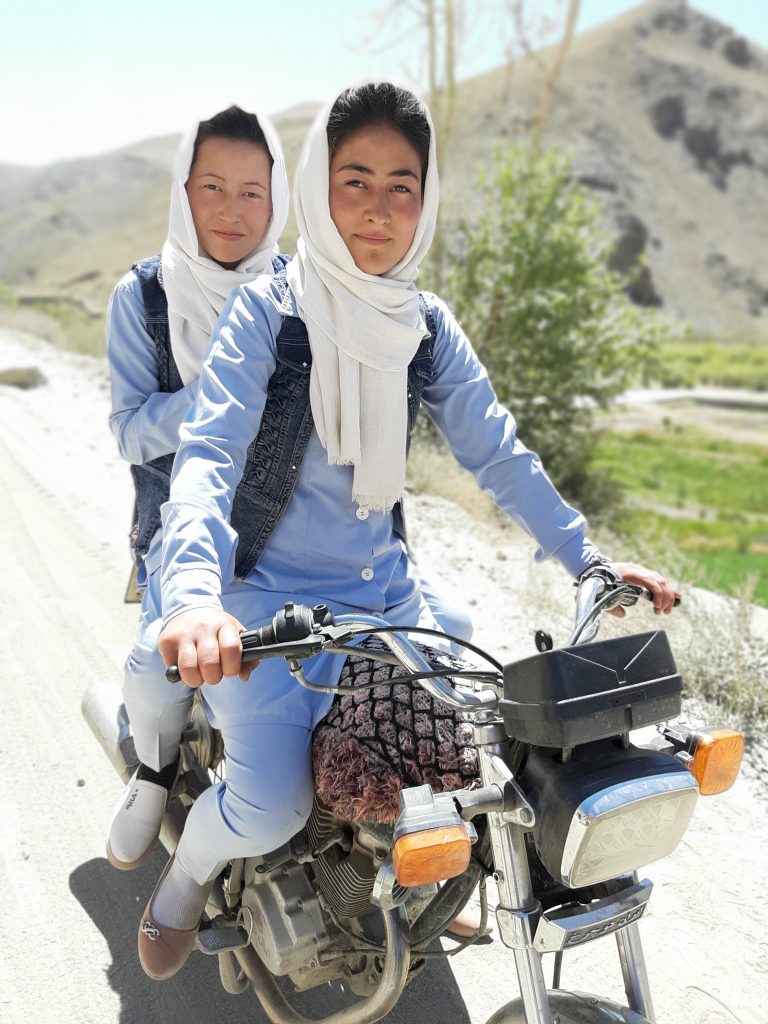 How is this program working to improve gender equality and economic inclusion in Afghanistan?
The Afghanistan Women's Empowerment Program (AWEP) is a complex four-year program spread out across three provinces of Afghanistan – Baghlan, Bamyan, and Takhar.
Put simply, we are working with two groups: women, and the people with whom they live, study, and work. We want to help women develop the self-confidence and tools to fully engage with their society and the marketplace, but we are also working with the broader community – such as their husbands, brothers, and fathers; religious and traditional leaders; and government officials – to prepare them for women becoming more active in the public sphere.
For us, empowerment is defined as a woman's ability to make choices about her future, about things like how she engages in society or how she earns an income. However, the ability to choose is null if the community rejects or discourages women from making choices. When working on empowerment, it's as important to engage with the gatekeepers as it is to help people "find their keys."
Afghanistan has made progress over the last decade in establishing legislation that promotes women's rights – but changes at the policy level do not always trickle down to the everyday lives of Afghans. How does AKFC promote gender equality at the community level?
All of our work is rooted at the community level, where we have made considerable investments in both formal institutions, like governments and the private sector, and informal institutions, like village organizations.
When we enter a community, we engage with all the formal and informal actors – situating gender equality within the local context, providing methods of consulting and engaging with women, and designing programs with women for women. This helped us build a foundation where women could begin to safely engage and start challenging gender norms around women's work.
Can you give us an example?
One of the most effective tools we piloted under AWEP are the Community Advisory Boards. These boards are associations of gatekeepers like religious and traditional leaders and village elders, and where possible, influential women and women entrepreneurs.
These boards meet quarterly to discuss the barriers women face in accessing training and services. They come up with potential solutions to these challenges, and put forward community-created recommendations.
These associations also consult their communities to uncover the root causes of gender inequality, such as inheritance laws, family traditions, or domestic violence, and they campaign to prevent it. The boards can access radio shows, travel stipends, and materials for visual campaigns – so they can interact with their communities across various channels.
In provinces like Bamyan, these gatekeepers are the most influential members of society – so when Community Advisory Board members ask community members to reconsider their habits and behaviours, they very often listen.
Did you attend any of these Community Advisory Board meetings while you were in Bamyan?
I did! The Community Advisory Board in Waras, where the motorcyclists Aziza and Zuhra live, has had some of our most significant results. In 2016, a number of young women in the region died by suicide, after being denied mobility to pursue university education outside of their community. At that time, the newly-formed board decided to take a stance on women's rights to choose their education and to free mobility.
Since 2016, the majority of girls are now in secondary school, and the district is seeing its highest number of women enrolled in university. And of course, in the case of my new friends on the side of the road, this means that some women are now using motorcycles to explore their newfound freedom.
Gender equality is commonly misunderstood as being a "women's issue," when in fact it benefits everyone. How do you see the broader benefits of greater gender equality?
How long do you have? First and foremost I should state that gender equality should be considered the "ends," and not just the "means." When 50 percent of the population has not been able to fully realize their rights, that's a problem that needs our attention.
However, beyond this basic fact, when societies are more equal, everyone benefits – economies have been proven to flourish (in OECD countries, it is estimated that 15 to 20 percent of GDP is lost due to inequality), we see better health and education, and even responses to the impacts of climate change improve.
Earlier this year, you won AKFC's inaugural Gender Equality and Inclusion Game-changer Award. This internal award recognizes AKFC staff who have made outstanding contributions to promoting gender equality and inclusion. What did winning the award mean to you?
Everything! Five years ago I started at AKFC as part of the International Youth Fellowship program. In my application, I wrote that gender equality is one of the things which drives me – inspired in equal parts by how I grew up, and by witnessing extreme inequality when I did an internship in East Africa – and how I wanted to work in a team where this is a focus.
As fate would have it, I became the women's empowerment focal point and have had the privilege to work with fantastic gender equality teams in Pakistan and Afghanistan. Just being able to work with people like Mahmooda, my counterpart in Afghanistan, and to meet everyday "she-roes" like Aziza and Zuhra, is an honour. As I told the team when I won the award – AKFC has allowed me to take my values, and turn it into a calling.
What inspires you to continue with your work?
The amazing women themselves. From the leadership of my counterparts in our field offices, to the fearless courage of the trainers and mobilizers who travel to remote areas, day-to-day; these people make me want to come into the office everyday.
And, of course, the women who have benefitted from our programs. In addition to Aziza and Zuhra, I can't stop thinking about the young women of Buda Art Studio, an all-women woodworking shop led by the charismatic Rukiza. The group of 10 women benefitted from a community- and women-designed grant to meet the demand for intricate wooden art, toys, and jewelry.
This group of young women, almost all university students or recent graduates, were trained on woodwork and business design. Picture this: a group of women working with knives, chisels, and drills, on a street filled with male craftspeople – carpenters, iron workers, and a welder! But they've made a home for themselves and are generating business by courageously chasing it down. They've pursued hotels, government offices, and universities as their clients, and they have crafted products like awards, wooden certificates, hotel art, and napkin holders.
When you speak to them, they echo something that I have seen in a lot of Bamyan's women: unbridled hope and ambition. They don't speak about "if" their business grows, they are making plans for "when" it grows, with their eyes on expanding to markets in the capital city of Kabul, and landing contracts with major hotels or international buyers. And looking at the quality of their work, it's clear that they have the skills they need. These successes and these hopeful women and girls – that's why I can't stop my work.