Global Reads: Innovation In Real Places
November 27 @ 4:30 pm

-

6:00 pm

EST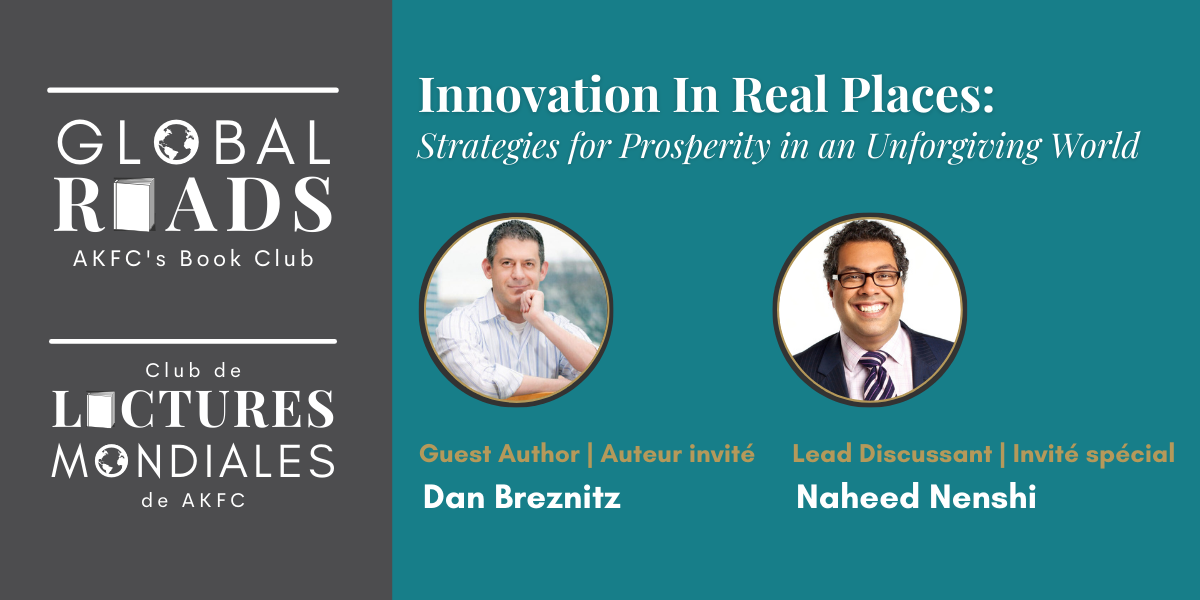 Join Global Reads for books, thought-provoking discussions, and meaningful connections!
Aga Khan Foundation Canada is pleased to invite you to join an enlightening edition of our book club series, Global Reads, on November 27. We are thrilled to have Naheed Nenshi, former mayor of Calgary, as our lead discussant, alongside the distinguished author of Innovation In Real Places – Strategies for Prosperity in an Unforgiving World, Dan Breznitz.
In this session, we delve into the pivotal themes of innovation, regional development, and fostering real change in communities. Breznitz's book offers a compelling blueprint for harnessing innovation on a local level, making it exceptionally relevant in today's world.
Mr. Nenshi's remarkable leadership and passion for community development, along with Mr. Breznitz's work in innovation policy, ensure a dynamic and insightful conversation.
Don't miss this opportunity to engage with our guest author and lead discussant in person and discover how innovation can shape our world!
Additional information for attendees:
Networking/Refreshments: In-person attendees are encouraged to participate in an informal networking session and enjoy refreshments after the event.
When you register, please indicate your interest in attending in person at the Delegation of the Ismaili Imamat or attending online (Zoom) by selecting the relevant ticket option.
Please note that this event will be offered in English only.
Questions? Please contact [email protected]
Speakers
Dan Breznitz
Professor at the University of Toronto and Munk Chair of Innovation Studies
Dan Breznitz is the Munk Chair of Innovation Studies, the Co-Director of the Innovation Policy Lab, and a professor of global affairs and political science at the Munk School and the Department of Political Science of the University of Toronto, as well as a Fellow of the Canadian Institute for Advanced Research (CIFAR), where he co-directs the program on Innovation, Equity, and the Future of Prosperity. Before moving to U of T, Breznitz spent eight years as a professor at Georgia Institute of Technology and was the cofounder and CEO of a software company in Israel. He is the author of numerous papers, chapters, and edited volumes, as well as two award-winning books, Innovation and the State: Political Choice and Strategies for Growth in Israel, Taiwan, and Ireland, and The Run of the Red Queen: Government, Innovation, Globalization, and Economic Growth in China. He just published his third book, Innovation in Real Places: Strategies for Prosperity in an Unforgiving World, in which he offers pragmatic advice while debunking dangerous myths on innovation, growth, and prosperity.
Naheed Nenshi
Community builder and former mayor of Calgary
Nenshi served as Calgary's mayor for three terms between 2010 and 2021, during which time Calgary was recognized as one of the best cities to live in the Western Hemisphere. In recognition of his leadership, Nenshi was awarded the World Mayor Prize in 2014 by the City Mayors Foundation. He is also the recipient of the President's Award from the Canadian Institute of Planners and the Humanitarian Award from the Canadian Psychological Association for his contribution to community mental health.
Before his election, Nenshi served as Canada's first tenured professor of non-profit management at the Bissett School of Business at Mount Royal University. Prior to entering academia, he worked as a management consultant for the global consulting firm McKinsey & Company and ran his own firm, Ascend Group. His client list included the United Nations, where he explored how corporations can assist the world's poorest people, and the Gap. Today, Nenshi is a well-known voice on urban issues, having presented to audiences across Canada and the world, including the World Economic Forum.
About the series
Global Reads is a book club series where participants can connect and learn together with other globally minded professionals. Global Reads primarily explores recent works focused on international affairs, policy, or practice—with an emphasis on innovation, new voices, and diverse perspectives. Notable leaders and thinkers from the international affairs, global development, and allied sectors facilitate lively and inclusive discussions, providing a structure for collaborative interpretation, learning, and growth.
Join Global Reads to:
Forge new connections with likeminded, globally focused thinkers
Encounter inspiring, challenging, and unconventional ideas
Gain a fresh perspective on your work
Reignite your professional development goals