Launch of Together: An exhibition on Global Development
Participants walked through a custom-built truck with 1,000 square feet of interactive exhibit space and explored how Canadians are driving positive change around the world.
In 2016 the exhibition traveled to communities across western and central Canada. But before the truck hit the road, we celebrated Together!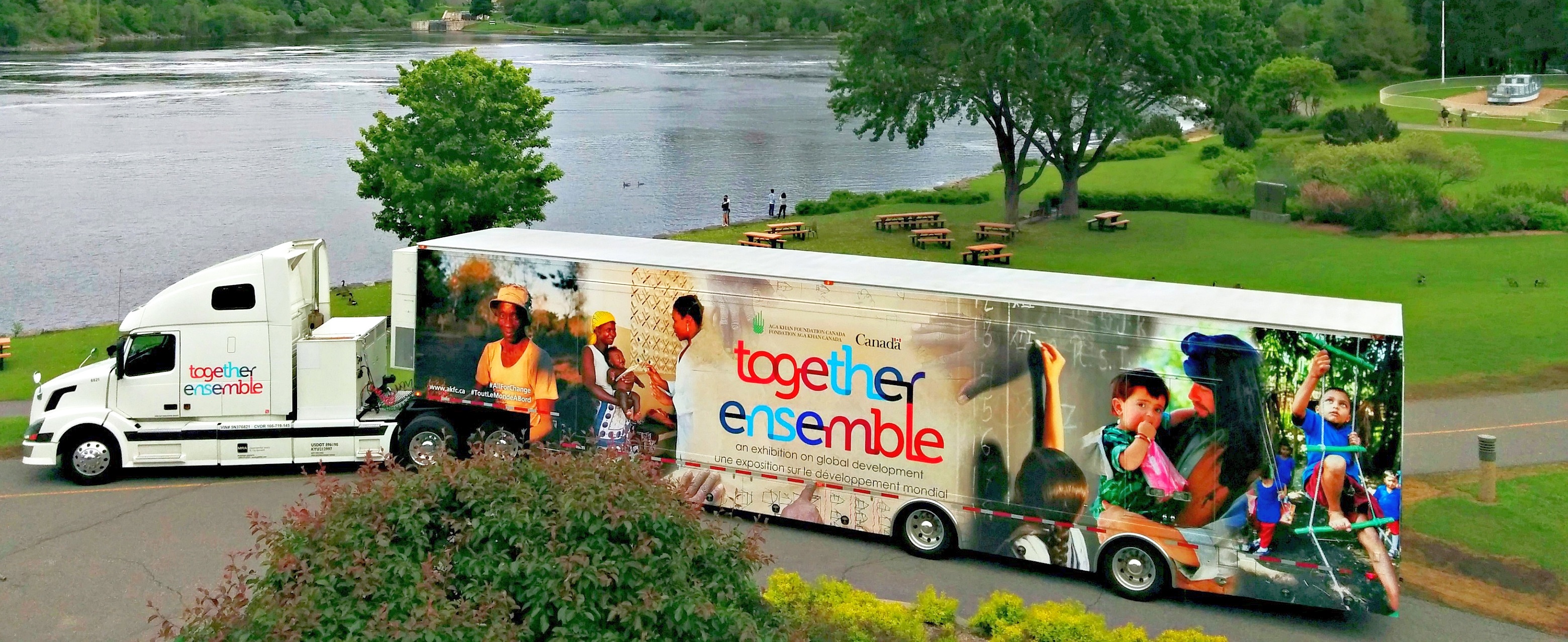 The program celebrated the role that Canada plays in global development and the importance of global citizenship, a core theme of the Together exhibition.
Four notable individuals shared their journeys towards global citizenship!
Ta'Kaiya Blaney –
Award-winning Singer
and Environmentalist

Derek Gent –
Executive Director at
Vancity Community
Foundation

Andrea Reimer –
Vancouver City Councillor
Nareena Switlo –
Chief Operating Officer at
Naledo Foods and Beverages and
AKFC Speaker Bureau Volunteer
The evening was emceed by Kamil Karamali, TV and radio news reporter for CBC Vancouver
Launch Program:
5:00 to 5:30 Participants arrived early and met others interested in global development at a networking reception
5:30 to 6:30 Participants were inspired by four individuals who demonstrate global citizenship through their skills and passions
6:30 to 8:00 Participants were among the first in Western Canada to visit the Together exhibition and explored how Canadians are driving positive change around the world. The exhibition was parked at the Vancouver Public Library and guests were welcome to visit it before the event.
Event details:
This event has taken place.
---
Are you as excited about the exhibition as we are? Help us spread the word!
Together Website
Facebook
Twitter
Please contact n [email protected]This email address is being protected from spambots. You need JavaScript enabled to view it.
with any questions.
For those who could not join us, the exhibition was open to the public, free of charge at other locations in Vancouver and BC throughout the month of May. Visit www.akfc.ca/together for an up-to-date list of tour stops.
---
Ta'Kaiya Blaney
Ta'Kaiya Blaney is an actor, singer-songwriter and Youth Ambassador for Native Children's Survival (NCS). At the young age of 6, Ta'Kaiya starred in several award-winning short films. By the age of 10, Ta'Kaiya's first music release and music video Shallow Waters brought her national acclaim and earned her multiple awards and cultural honors. Ta'Kaiya has performed and spoken at grassroots Indigenous gatherings and rallies, and at United Nations forums across the globe including the Tunza United Nations Children and Youth Conference on the Environment, the United Nations Rio+20 Conference on the Environment, and the United Nations Permanent Forum On Indigenous Issues. In 2014, at the age of 13, Ta'Kaiya presented an intervention at United Nations Headquarters introducing the NCS "Indigenous Children's Fund".
As part of the NCS Youth Campaign for Climate Justice Ta'Kaiya's inspirational music picture from the front lines of the environmental movement EARTH REVOLUTION premiered at the Conference of Youth in Paris, France on the eve of the historic 2015 United Nations Climate Change Conference (COP21). Written and performed by Ta'Kaiya, EARTH REVOLUTION features children from around the world in a call to action to protect Mother Earth and all our relations for future generations. On World Environment Day, 5 June 2016, Ta'Kaiya Blaney's new single and music picture EARTH REVOLUTION drops digitally on iTunes, Amazon and leading music stores around the world.
Derek Gent
Derek Gent currently serves as a member of the local advisory council for Aga Khan Foundation Canada (AKFC), supporting the annual World Partnership Walk event and World Partnership Golf tournament held each year. Derek has a history with AKFC going back over 20 years, as an early participant in the International Development Management fellowship in the mid 1990's. As a relatively recent business school graduate at that time, he was placed with an indigenous partner organization in Bangladesh, where he experienced firsthand the type of transformative community development supported by AKFC. He has since committed his career and volunteer path toward seeing more of this work happen both here and internationally.
In his day job, Derek is the Executive Director of Vancity Community Foundation, a charitable arm associated with Vancity Credit Union. He leads a team supporting more than 150 different donor advised funds and a core endowment, where they invest the assets, provide grants to local community organizations and deliver a range of charitable programs supporting development in BC. Derek serves on a number of other non-profit boards as well, including Imagine Canada, the Responsible Investment Association and the Cooperators Foundation. He lives in East Vancouver with his wife and three young children, who all proudly participate in the World Partnership Walk each year.
Andrea Reimer
Andrea was first elected in 2002 as a School Board trustee with the Green Party. Inspired by Gregor Robertson's leadership, she joined Vision Vancouver and was first elected to City Council in 2008.
As a City Councillor, Andrea serves as Chair of the City's Planning and Environment Committee and a member of the Greenest City Action Team, overseeing Vancouver's efforts to become a global leader in environmental action. Andrea is also the Council liaison to the Joint Childcare Council, a coordinating body for civic agencies with the Vancouver Park Board and School Board.
Andrea and her partner Andy live near Trout Lake with their child. When not working you'll likely find her gardening or on the soccer pitch where she plays goalie.
Nareena Switlo
Nareena grew up in Vancouver, BC. Her passion for learning about different cultures led her to a career in International Development. Nareena is an experienced project manager with a background in Anthropology. She has served as a program advisor and leadership facilitator focused on holistic approaches to development. She has worked with innovative organizations in Zanzibar, Kenya, Ghana, and India. In 2015 Nareena co-founded Naledo, a social enterprise focused on being a better business for better lives by creating turmeric products that are healthy, sustainable, and empower communities.
Kamil Karamali
Kamil Karamali is a TV and radio news reporter for CBC Vancouver. He also occasionally fills in as a Breaking News reporter for CBC News Now with Ian Hanomansing. Before coming to Vancouver, Kamil spent nearly three years as a journalist in Ottawa for CBC News, where he covered stories with local and national implications. Kamil has also volunteered with the Aga Khan Foundation Canada as a videographer, travelling to Pakistan, Mozambique and Tanzania to film development projects in the area. Kamil graduated from Simon Fraser and BCIT, and is happy to be back telling stories in his home province of BC.
---
In partnership with:

Undertaken with the financial support of: