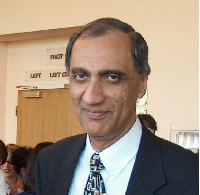 For Nizar Mitha, connecting with people is part of who he is – whether it's learning about persons of the past through his stamp collection or building face-to-face relationships within his own community in Edmonton.
As a supporter since 1989, one might say that he has experienced this through World Partnership Walk. Over the years his role, like the Walk itself, has evolved. As attendee, donor, volunteer, and fundraiser, he has truly become a Renaissance man.
Nizar is now the Donor Services Chair in Edmonton, which entails processing the funds collected at World Partnership Walk, World Partnership Golf, as well as other Aga Khan Foundation Canada (AKFC) fundraising initiatives. Similar to any stamp aficionado, it is his patience and meticulousness that enable him to succeed. Nizar's commitment as a volunteer also extends to his role as the team captain for The PAGERS (Province of Alberta Government Employees and Retirees) team, which has raised $71,590 since 2005.
Growing up in Africa, Nizar would accompany his mother when she visited less fortunate families within their community. It was then that he experienced "the immense happiness [of] see[ing] the fruits of your labour." His own volunteer career was and continues to be inspired by his mother's acts of kindness.
When asked to give advice to other volunteers, Nizar is modest and points to the benefits and skills he has acquired through his many roles. "Do not despair when something does not work out initially," he says. "Given time (and patience), you will see the results and feel the joy."
Like his stamp collection, Nizar's commitment to community and giving back is a pastime he will pass on through the generations. The year 2019 marks his 30th year supporting the Walk, which is a rare and momentous occasion worthy of commemoration in any great collection.