Climate change is increasingly seen as the defining human development issue of our time. In 2015, the United Nations Office for Disaster Reduction found that 87% of disasters from the preceding decade were climate-related. According to the World Health Organization, as of the year 2030, climate change is expected to contribute to approximately 250,000 additional deaths per year, from malnutrition, malaria, diarrhea, and heat stress.
But the solutions are out there—and they are necessary, especially in the Global South, where demands for energy security are only increasing as communities seek to dramatically improve their quality of life. On the other hand, developing countries are also the most impacted by climate change, and the least able to afford its consequences.
Last fall, AKFC hosted a panel to discuss the role clean energy can play in bringing equity to vulnerable communities. The event was hosted by journalist Aliya Jasmine Sovani, with guests Revealed Kataru, Country Director for Aga Khan Foundation Tanzania, and His Excellency, Daler Juma, Minister of Energy and Water Resources for Tajikistan and former General Director of Pamir Energy.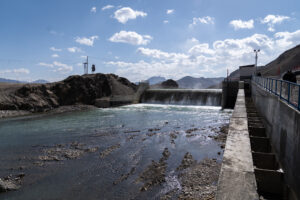 Responding to climate change is a complex process, with diversifying energy sources to include clean and renewable energy as a critical component. Sustainability and cost are just one side of the clean energy equation. For these initiatives to be truly transformative, they also need to be gender-inclusive.
According to His Excellency, women and children are traditionally the ones who gather energy resources like wood in Central and Southeast Asia. A UNDP brief on gender and sustainable energy corroborates this, highlighting that women and girls spend a considerable amount of time gathering biomass for energy. A study in India, Bangladesh, and Nepal found that women spent up to 20 or more hours per week in energy collection.
"It takes 4-5 hours every afternoon to gather wood for the next day for any given household in a community. Now, if solar panels were installed in these communities, women can instead spend time taking classes or running businesses. There is also more time for children to do homework when they don't have to worry about candles and kerosene," said His Excellency.
If we add up all that time it means that women and girls spend between 60-75 days every year to gather these resources for their homes – time that can easily be put towards furthering their education or business that they want to be involved in.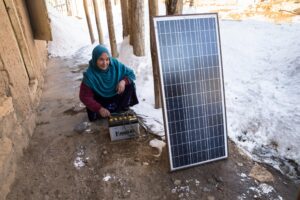 Revealed agreed, saying women who are engaged with small and medium enterprises and are connected to clean energy are able to save valuable time for increased productivity and domestic responsibilities. This leads to an increase in income, and they are empowered to realize they can do anything.
"[Clean energy initiatives] also lead to an increase in the ability of girls to be competitive at school, as they are more likely to be able to attend as there is less housework to do, which has led directly to the marked increase in the number of girls getting scholarships to study in fields such as electrical engineering," His Excellency added.
This approach makes the whole process self-sustaining – by gaining valuable skills, women and girls will be able to exponentially grow the available opportunities in the communities.
During the panel discussion, both speakers agreed that there has been a tremendous increase in gender equality because of climate change-related projects. But they also highlighted the continued need to ensure that clean energy is sustainable and affordable.
"Our next focus needs to be to scale up renewable energies…if you look at the energy consumption in East Africa only about 2% is clean energy or renewable energy so there really is space to expand," added Revealed.
Watch the full conversation here: