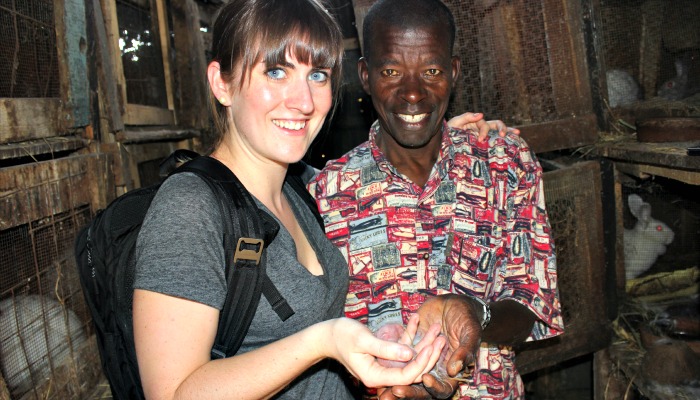 The darkened shed smells of straw and musty wood, thin shafts of light falling between gaps in the corrugated metal walls. Nestled in the palm of my hand is a pink, hairless creature, feather-light and warm to the touch. Its eyes still squeezed shut, this baby rabbit is just one hour old.
This is not your typical African safari.
Most tourists visiting East Africa might transit through Nairobi on their way to the expansive Masai Mara game reserve, to see elephants gliding across the grasslands, giraffes stripping leaves from acacia trees, and water buffalo standing sentry at a watering hole.
But some visitors are more interested in the animals you can find in Kenya's capital city: Francis Wachira's rabbits.

TWEET THIS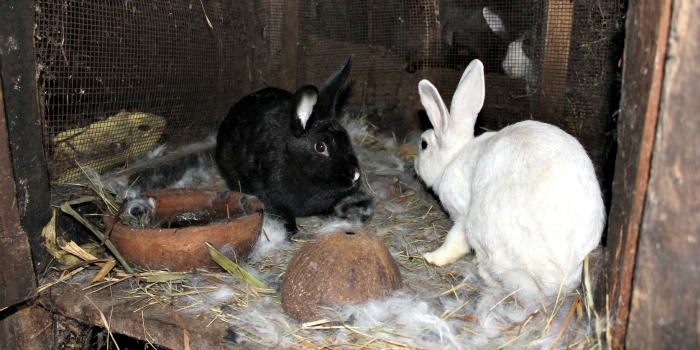 "People come here from as far away as Tanzania, Uganda, [and] Sudan, to see what I am doing," Francis told me when I visited his urban farm in Nairobi. His business card reads "Francis Wachira, The Rabbit King."
Ten years ago, Francis planted a few vegetables on an abandoned playground in the neighbourhood of Makadara. Today, he cultivates dozens of crops, and raises geese, guinea pigs, chickens, goats, and – of course – rabbits. Francis tends to as many as 500 rabbits, which he sells to supermarkets and hotels for their meat.
Originally from the Mount Kenya region, Francis is now making his living as an organic farmer just a few kilometres from the skyscrapers of downtown Nairobi, a metropolis of more than three million people.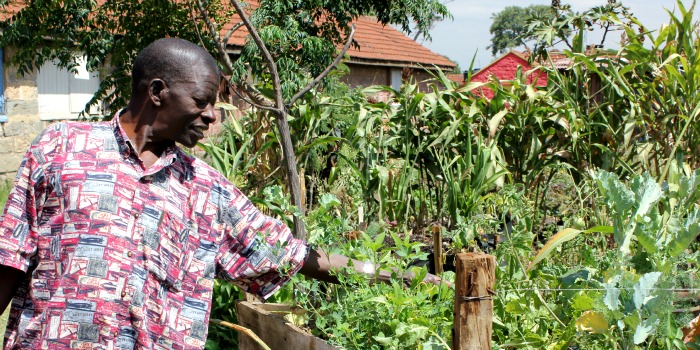 Francis and a container garden on his farm
We live in an era of rapid urbanization, as people migrate to cities in search of better incomes and new opportunities. In 2008, the scales finally tipped: for the first time in history, city-dwellers outnumbered those living in rural areas. The trend hasn't slowed, and the Food and Agriculture Organization of the United Nations (FAO) estimates that 60 per cent of the global population will live in cities by 2030.
Urbanization brings with it a number of challenges, as housing, infrastructure, work opportunities, and basic services lag behind demand – particularly for the one-third of the global population who live in "informal settlements," known colloquially as slums.
One of these challenges is urban food security. Food security means having reliable access to safe, nutritious food. It's a concern in both urban and rural settings, but in cities, where people typically rely on buying food instead of growing their own, fluctuations in incomes and food prices directly impact the amount and quality of food that families can afford to put on the table.
In addition to stripping people of the energy they need to improve their lives and contribute to their communities, malnutrition has long-term consequences. It stunts growth, causes a multitude of health problems, and is linked to almost half of all deaths of children under five.
There's no single solution to food insecurity, but urban farming is emerging as one way to tackle the challenge.

TWEET THIS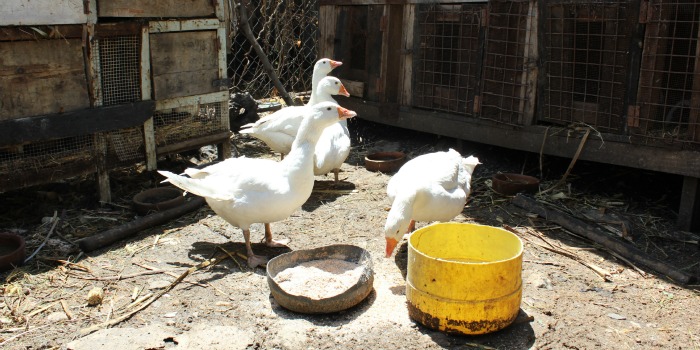 Geese on Francis's farm
Francis's small plot of land produces more than enough food for his family. The bounty of crops on his farm reads like an upscale grocery list: carrots, celery, radishes, arrowroot, lettuce, tomatoes, spinach, strawberries, passion fruit, basil, sage, dill, mint, aloe vera, cassava, sorghum, mangoes, bananas, sugar cane, avocados, and yams. (And those are just the ones I remembered to write down.)
He sells his surplus crops or trades them to his neighbours for help on his land. He also sells his livestock and goat milk, a nutritious alternative to cow milk. He composts to enrich his soil, and harvests seeds to plant, share, and sell.
"I don't want to go on this journey alone. I want to encourage others to go with me." ­­­– ­­­­­­­ Francis Wachira, The Rabbit King
Urban agriculture is not a new idea. Farming practices are often woven into the fabric of cities in the developing world – when I lived in Kigali, Rwanda, I once awoke to a goat peering into my bedroom window – but it's rarely practiced on this scale. More often, urban farming is fragmented, frowned upon by municipal authorities, and not used to its full potential.
I was introduced to Francis by Stephen Otieno, a research fellow at Aga Khan University's East African Institute. Stephen's research project, funded by AKFC and the Government of Canada, is trying to better understand Nairobi's food system.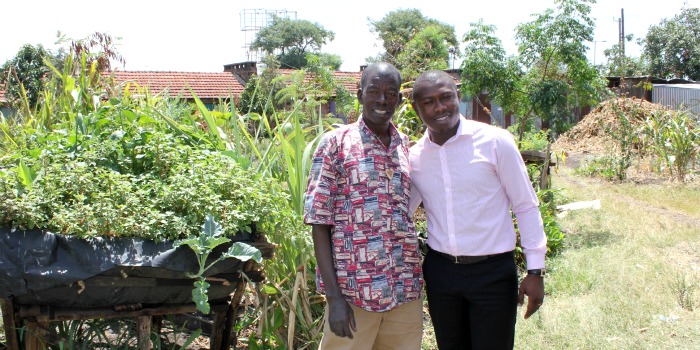 Francis and Stephen.
Working with mapping software, the project is tracing the routes that fresh food takes from farms in East Africa to Nairobi's grocery stores and markets. Through this digital mapping and consultations with key players in the city's urban agriculture system – like farmers, urban planners, and city council members – the research is painting a clearer picture of how Nairobi's food gets from farm to table.
The more we understand about the system – where food comes from now, and the opportunities for growing food within the city limits – the better-equipped we are to tackle the challenge of food security.
Stephen's research will help inform policies and planning to improve urban food systems in Nairobi and elsewhere. In Nairobi, the city government is already looking at new ways to promote and regulate urban agriculture.
Francis often uses his farm as a classroom. He regularly hosts visitors who want to grow food on their own property. Urban farming doesn't have to take much space: according to the FAO, one square metre of land can provide up to 20 kilograms of food per year.
"I don't want to go on this journey alone," he says. "I want to encourage others to go with me."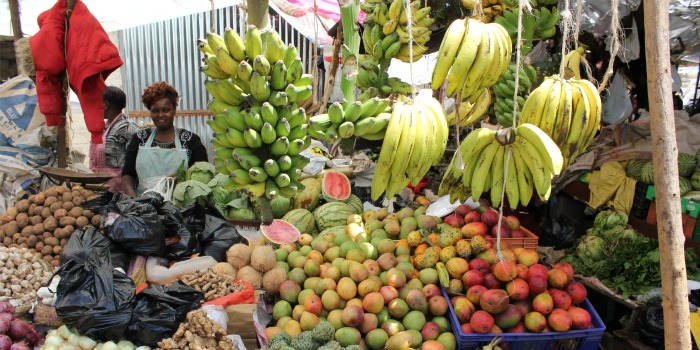 A fruit stand at Nairobi City Park market
Look at a satellite map of any city in the world, and you'll see endless opportunities for small-scale urban agriculture: bare rooftops, empty backyards, and abandoned lots. Using some of that space to cultivate local, nutrient-rich crops could be a step towards reducing hunger and improving nutrition in some of the most vulnerable parts of the world.
In his late 60s, Francis has no plans to slow down, and is always keen to learn new farming techniques and try out different crops.
"I like eating what I grow from my farm, because I'm very sure when I take milk from my dairy goat I know I'm taking the best. If I take those vegetables from my farm, I know I'm eating the best," Francis says. "I take care of the soil. When you take care of the soil, it will also take care of you."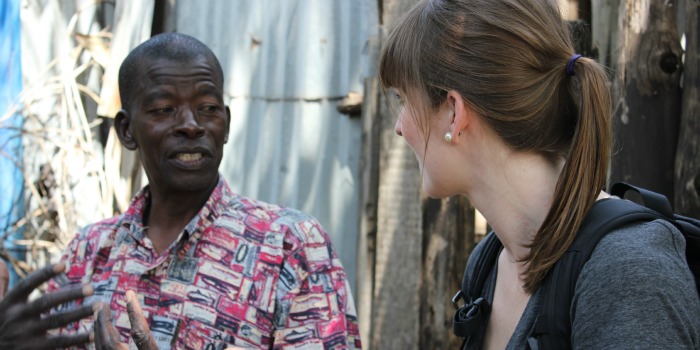 Rosemary Quipp is a public affairs officer at Aga Khan Foundation Canada.
Learn more:
Francis Wachira's urban farm was profiled in Nairobi's Business Daily. Read the article here (external link – English only).
What is food security and how is AKFC tackling the challenge? Watch this explainer video.
Food security and nutrition are a challenge in rural areas, too. Explore this photo gallery to learn about food security in rural areas of northern Mozambique.
---
Financial support: