Global Economic and Climate Change along the Silk Road: Crisis in Central Asia and Afghanistan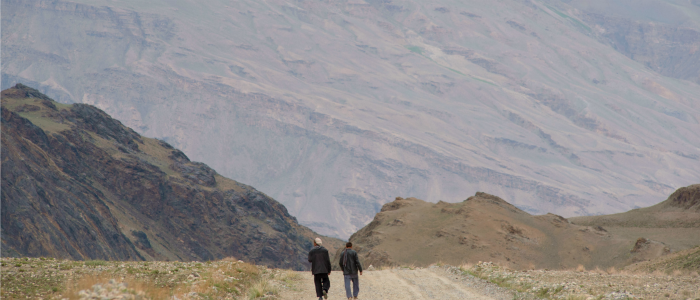 A profound economic crisis is gripping the region. The causes are diverse: decreasing oil and gas prices, an economic slowdown in China, the falling Russian Ruble, and for Afghanistan – even the withdrawal of NATO forces. Under such circumstances, households and national governments are scrambling to cope.
But the economy is not the sole global force challenging Central Asia and Afghanistan. In recent years, climate change has put growing pressure on this fragile and mountainous region. Rising temperatures, irregular rainfall, and increasingly devastating natural disasters are the new normal.
In a rapidly changing environment, what processes, policies, and plans are in place to help citizens and their governments to deal with these new global realities?
Participants joined Aga Khan Foundation Canada and Carleton University for a panel discussion on the future of Central Asia and Afghanistan. Speakers brought insights informed by decades of experience in the fields of economic development, public policy, and climate change. In addition Dr Bohdan Krawchenko and Dr Dietrich Schmidt-Vogt from the University of Central Asia reflected on lessons learned from the UCA's Research and Public Policy Initiative, funded by Canada's International Development Research Centre and AKFC, which sought to strengthen research capacity and evidence-based policy-making in Afghanistan and Central Asia.
Event details:
This event has taken place.
---
Dr. Bohdan Krawchenko
Dr. Bohdan Krawchenko received his doctorate from the University of Oxford and is an expert in Public Policy and Administration with decades of experience in Eastern Europe and Central Asia. He has held faculty positions at the University of Alberta, Harvard University, and the College of Europe in Natolin, Poland. Dr Krawchenko has served as Director of Policy Studies at the Council of Advisors to the Parliament of Ukraine, and was Founder and Director of the Institute of Public Administration and Local Government. He has also served as a consultant to the World Bank, OECD, and to the Secretary of State for the Government of Canada. During his career, he has achieved two honourary doctorates and has been awarded an Order of Merit from the President of Ukraine. Krawchenko joined the University of Central Asia in October 2004, where he currently serves as the Director General and continues to write and speak on public administration reform in Central Asia.
Margaret Skok
Margaret Skok has worked in several federal departments and agencies with a focus on international business, employment, natural resource sectors and security, contributing to Canada's economic, trade and trade policy development. She has considerable experience in the public service, most prominently as Canada's ambassador to the Republic of Kazakhstan, with concurrent accreditation to the Kyrgyz Republic and to the Republic of Tajikistan. In December 2011, Margaret received a medal from the president of the Republic of Kazakhstan for her contribution to the country's 20 years of independence. Margaret has also worked with the Canadian Nuclear Safety Commission, consulted to the Canadian government, private companies, and universities on business development, bilateral agreements, and trade law and policies and training. Margaret Skok is a senior fellow at The Centre for International Governance Innovation (CIGI) where she is focusing on the major security challenges, as well as the governance and institutional architecture of Central Asia.
Dr Dietrich Schmidt-Vogt
Dr. Dietrich Schmidt-Vogt, geographer and fellow of the Alexander von Humboldt-Foundation, is Director of the Mountain Societies Research Institute at the University of Central Asia (UCA) in the Kyrgyz Republic. Before joining UCA, he was Head of the Research Program at the World Agroforestry Centre East and Central Asia Office, and Professor at the Kunming Institute of Botany, Chinese Academy of Sciences, in Kunming, China. Previous affiliations were as Associate Professor with the Asian Institute of Technology, Thailand, and as Senior Lecturer with the South Asia Institute of Heidelberg University, Germany. He obtained his doctoral and postdoctoral degrees at Heidelberg University and has more than 30 years of research experience in mountainous areas of Asia. His research interests include forest-farming interactions, multifunctional landscapes, integrated land use systems, and land use change and livelihoods in mountains.
---
In partnership with:

Undertaken with the financial support of: