From Knowledge to Practice: Advancing Gender-Responsive Nature-Based Climate Solutions
October 7, 2022 @ 10:30 am

-

3:30 pm

EDT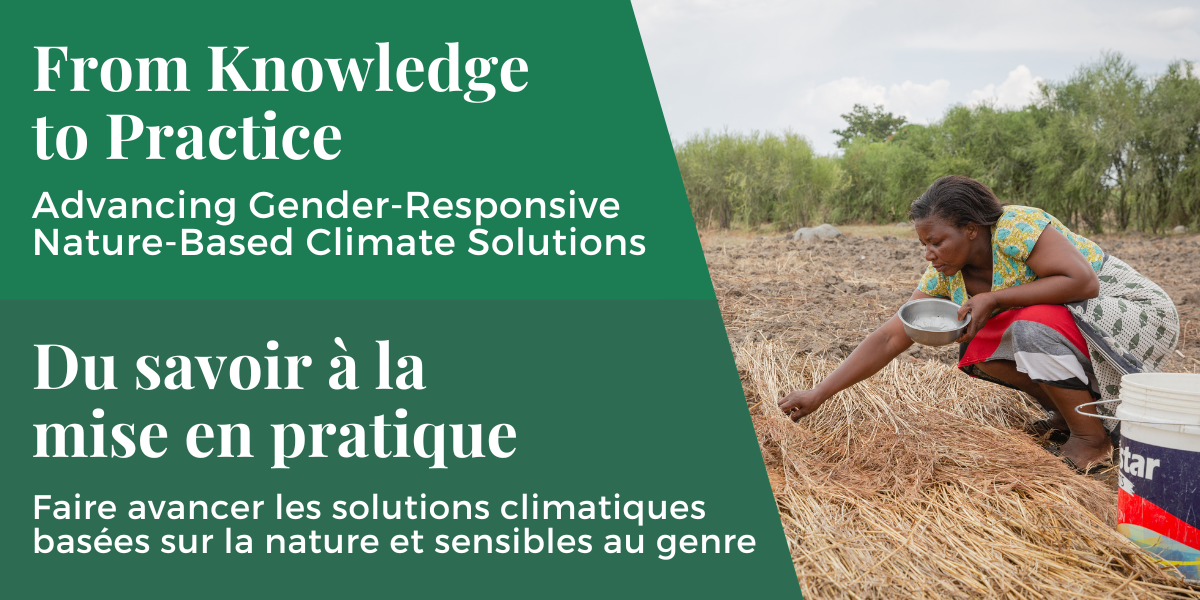 A capacity-building session and community of practice event
About this event
Nature-based climate solutions (NBCS) that conserve, restore, and sustainably use biodiversity and ecosystems hold promise in helping people adapt to the impacts of climate change.
Aga Khan Foundation Canada (AKFC) and the International Institute for Sustainable Development (IISD) are hosting an NBCS capacity-building session which will be followed by a community of practice meeting focusing on NBCS and biodiversity led by Global Affairs Canada (GAC).
Session 1: Implementing Gender-Responsive Nature-Based Climate Solutions for Adaptation
On October 7, join AKFC and IISD for a capacity-building session on advancing gender equality through rights-based, inclusive approaches to NBCS for climate change adaptation. The session will include case study presentations and breakout discussions with experienced practitioners including:
Suriname's Gender-responsive Water Resource Adaptation Strategy: Angie Dazé, Lead, Gender Equality and Social Inclusion with IISD's Resilience program
Aga Khan Development Network Gender-Responsive Adaptation Initiative : Humaira Daniel, Climate Change Specialist, AKFC
Canadian Coalition on Climate Change and Development Case Study: Speaker TBD
Session 2: Nature-based Climate Solutions and Biodiversity Community of Practice Meeting
GAC welcomes organizations to a meeting of the NBCS & Biodiversity Community of Practice. In this meeting, we will discuss the objectives of the Community of Practice, operating principles, and key areas of focus. Participants will also discuss how issues identified in Session 1 can be addressed through working groups and activities of the Community of Practice. The session will include a brief overview of Canada's "Partnering for Climate" initiative and a moderated discussion led by GAC officials, including:
Kerry Max, Special Advisor, Climate Finance Partnerships, GAC
Additional speakers TBC
Event Details
Session 1 – Breakout Discussions: The event will include a breakout discussion focusing on the case studies, with the case study presenters and/or additional moderators. There will be an opportunity to sign up for a breakout session closer to the event.
Session 2 – Nature-based Climate Solutions and Biodiversity Community of Practice Meeting:
Introductory remarks by GAC
Overview of Canada's Partnering for Climate initiative
Presentation of key Menti findings from June 2022 Nature-based Solutions meeting where initial Community of Practice input was requested
Group discussion regarding key objectives, operating principles, and areas of focus
Concluding remarks regarding next steps and preparation for the 2023 International Development Week Community of Practice meeting
French Translation
This event will be offered in English with French interpretation available in the plenary session and designated breakout sessions.
Please specify in your registration if you would prefer to access the French interpretation services in the breakout group.
Additional Information for Attendees
In-person / Virtual Ticket: When you register, please indicate your interest to attend in-person at the Delegation of the Ismaili Imamat (199 Sussex Drive, Ottawa) or to attend online (Zoom) by selecting the relevant ticket option for each session.
Refreshments: In-person attendees are welcome to arrive at 10:00 am ET to network and enjoy light refreshments prior to session 1.
A light networking lunch will be provided for those attending both sessions in-person.
Questions? Please contact [email protected].
---
About the Sessions
This session is co-hosted by AKFC and IISD as part of AKFC's Speaker Series on Climate Change Resilience and Adaptation and IISD's Nature for Climate Adaptation Initiative (NCAI).
AKFC's Speaker Series on Climate Change Resilience and Adaptation
The series aims to bring together practitioners, advocates, and others who share an interest in exploring and discussing how we may use the climate crisis as a catalyst for great leaps in addressing the complex challenges involved in confronting climate change in a manner that advances sustainable development, well-being, and resilient livelihoods for all.
IISD's Nature for Climate Adaptation Initiative (NCAI)
The NCAI equips civil society organizations and practitioners involved in international development and climate adaptation with the knowledge to design compelling proposals and pursue projects, programs, and partnerships that will unleash the full potential of nature in confronting the climate crisis. The NCAI will create an environment for accelerated action on NBCS for adaptation while promoting gender equality, social inclusion, rights-based approaches, and positive outcomes for biodiversity and ecosystems.
Nature-Based Climate Solutions & Biodiversity Community of Practice
As part of Canada's $5.3 billion (2021−2026) international climate finance commitment to help developing countries transition to low-carbon, climate-resilient, nature-positive, and inclusive sustainable development, Canada announced that it would allocate a minimum of 20% of funding to projects that leverage nature-based climate solutions and projects that contribute biodiversity co-benefits.
The NBCS and Biodiversity Community of Practice is intended to bring together organizations in Canada and their international partners to share our collective experiences and insights, and help advance knowledge of lessons learned and best practices.