Education beyond COVID-19
September 15 @ 9:00 am

-

10:30 am

EDT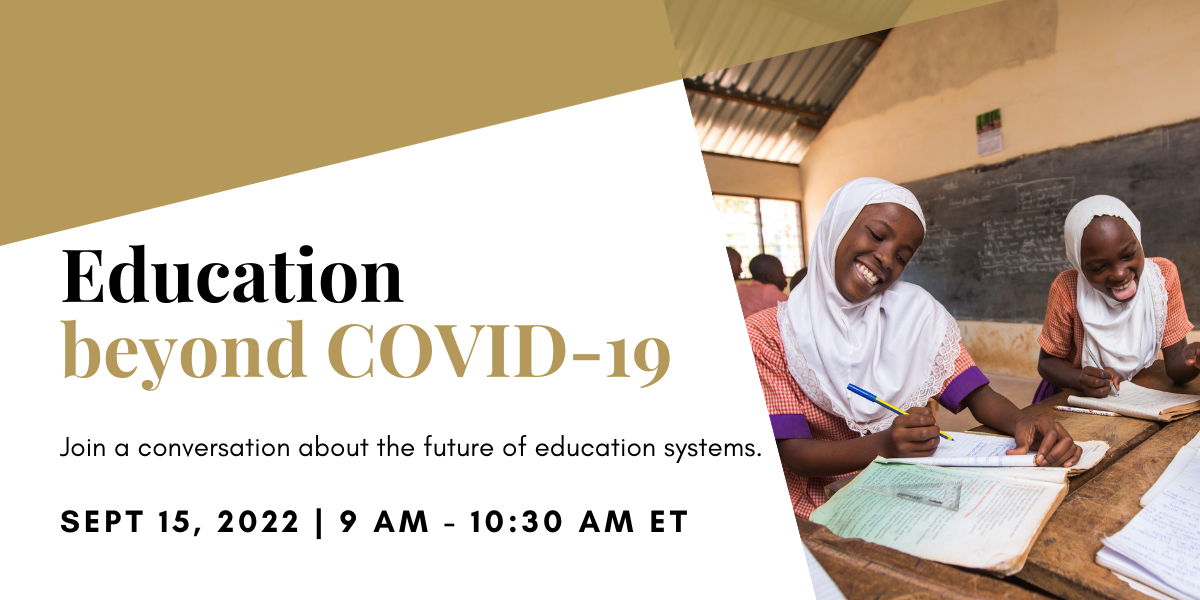 Join a conversation about the future of education systems.
PLEASE NOTE: THIS IS A HYBRID EVENT, OFFERING OPTIONS FOR IN-PERSON AND VIRTUAL PARTICIPATION. PLEASE BE SURE TO SELECT YOUR PREFERENCE AS YOU REGISTER. PROOF OF VACCINATION IS REQUIRED FOR IN-PERSON ATTENDANCE.
Since its onset, the COVID-19 pandemic has affected all aspects of life. For the education sector, the pandemic disrupted education systems, increased inequalities, and exacerbated existing issues in global education, particularly affecting the most vulnerable learners. As communities continue to work towards greater sustainability and resilience, understanding COVID-19's socioeconomic impacts is crucial to improving livelihoods and developing well-functioning and durable institutions and systems.
On September 15, Aga Khan Foundation Canada (AKFC) welcomes you to join a conversation on the future of education systems. The event will highlight a recent education policy paper developed by Dr. Fernando Reimers and his students (Farhan Karim, Cecelia Scheuer, Ishani Parekh, and Nathalia Trujillo) from Harvard University's Graduate School of Education.
The paper was selected to be a chapter (Ch. 5) in an edited publication entitled Advancing a New Social Contract for Education. The resulting book was featured on UNESCO's website and featured a forward by Stefania Giannini, UNESCO's Assistant Director-General for Education.
The paper examines the impact of COVID-19 on the delivery of gender-responsive primary education for girls in Kenya, within the Foundations for Education and Empowerment project in East Africa funded by Global Affairs Canada and AKFC.
What to Expect:
This hybrid event will include a brief presentation by the co-authors of the paper, followed by a moderated panel discussion with leading experts in the field of international education policy.
We will explore the following key questions:
What is the future of education and why is this so important today?
Why should Canadians care about the quality of education abroad?
What are the parallels between the current challenges and the future opportunities for education in East Africa and in North America?
What are the societal forces that have prompted a need to articulate a future of education?
What has COVID-19 meant for the realization of this vision?
How does one achieve global consensus on these priorities in an increasingly polarized and fractured political global landscape?
Key Information for Attendees:
When you register, please indicate your interest to attend in-person at the Delegation of the Ismaili Imamat or to attend online (Zoom) by selecting the relevant ticket option.
Please note that proof of vaccination will be required to join in person.
In-person attendees are welcome to arrive by 8:40 am, to network and enjoy light refreshments.
---
Moderator:
Khalil Z. Shariff
CEO, Aga Khan Foundation Canada
Panelists:
Dr. Fernando Reimers
Ford Foundation Professor of the Practice of International Education and Director of the Global Education Innovation Initiative at Harvard University
Dr. Reimers is an expert in the field of global education. His research and teaching focus on understanding how to educate children and youth so they can thrive in the 21st century. Dr. Reimers was a member of UNESCO's Commission on the Futures of Education, which published the report Reimagining Our Futures Together: A New Social Contract for Education. He has developed curriculum aligned with the United Nations' Sustainable Development Goals, which used in schools throughout the world. During the COVID-19 pandemic, he has led numerous comparative studies examining the educational consequences of the pandemic and identifying options to sustain educational opportunity and to build back better.
He directs the Global Education Innovation Initiative, a cross-country research and practice collaborative focusing on education for the 21st century, and has written or edited 45 books.
Louise Holt
Director General, Social Development, Global Issues and Development Branch, Global Affairs Canada
Louise Holt obtained a Bachelor of Arts (Hons) in Economics and Comparative Development Studies from Trent University in 1989. She later completed her Masters in Public Administration from Carleton University in 1995 and joined the Department of Foreign Affairs and International Trade in 2002. At Headquarters, she has served as the Deputy Director, Gender Equality and Women's Human Rights (2002-2005); as Director, Social Development Policy (2005 to 2009); and as Director, Sector and Thematic Specialist Division (2009 to 2012) at the Canadian International Development Agency. She has served overseas in Nairobi from 2012 to 2014 and in Pretoria from 2014 to 2016 as Counsellor and Director of Development. From 2016 to 2018, Ms. Holt served as Director General, Canadian Partnerships for Health and Social Development and as Director General, Partnership for Gender Equality from 2018-2020. She is currently Director General, Social Development, Global Issues and Development Branch.
With closing remarks from:
Jean-Bernard Parenteau | Director General, Canadian Partnerships for Health and Social Development, Global Affairs Canada
Presentations by:
Farhan Karim, Cecelia Scheuer, Ishani Parekh, and Nathalia Trujillo from Harvard University's Graduate School of Education
---