Our Stories as Global Citizens – featuring Together: an exhibition on global development
Participants walked through a custom-built truck with 1,000 square feet of interactive exhibit space and explored how Canadians are driving positive change around the world.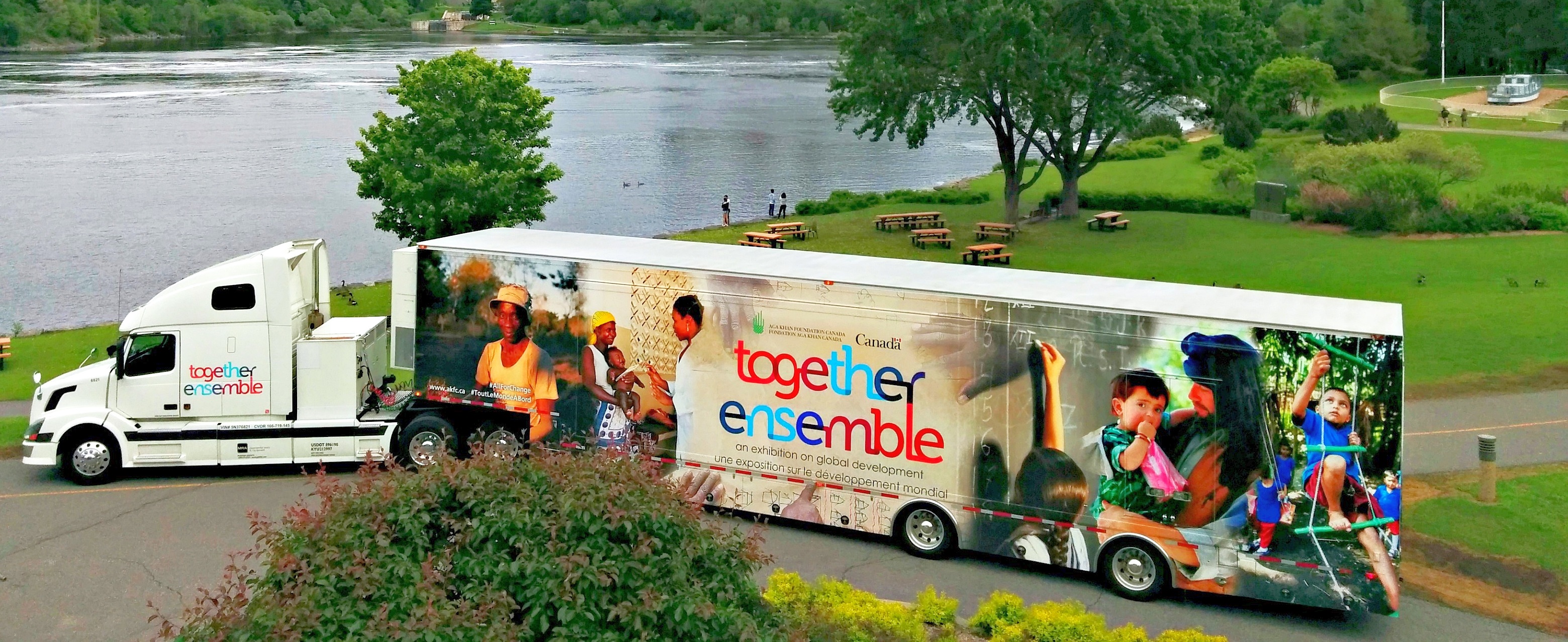 The program celebrated the role that Canadians play in local and global development and the important role that we can all play as global citizens.
Four notable individuals shared their journeys towards global citizenship!
Michael Redhead Champagne
Community Organiser and
Founder, Aboriginal Youth
Opportunities

Margaret Rempel
Farmer and former Board
Member, Canadian Foodgrains
Bank

Pablo Felices-Luna


Artistic Director, Manitoba


Theatre for Young People
Kyra Moshtaghi Nia


Board Member, Canadian Fair




Trade Network and Committee


Member, Fair Trade Winnipeg
Michael Redhead Champagne has spent nearly two decades speaking out and leading by example. He takes a hopeful and solution oriented approach to youth engagement, facilitation, community organizing and mobilization. The list of accolades for his work are both lengthy and well deserved. He was recognized as the 2016 Canadian Red Cross Young Humanitarian of the Year and in TIME Magazine as a Next Generation Leader. In 2016, Michael served on the Bank of Canada's bank note advisory committee with a task of creating a short list of women nominated by the public to appear on a new bank note. Michael has also received a Manitoba Aboriginal Youth Achievement Award as well as recognition as a CBC Manitoba Future 40 leader, a Manitoba Hero, and a Future Leader of Manitoba. As the founder of AYO! (Aboriginal Youth Opportunities), he is committed to a wide variety of important community initiatives including Meet Me at the Bell Tower, AYO Politix, ARROWS Youth Engagement Strategy, 13 Fires, Fearless R2W and Winnipeg Water Wednesday. Michael has served as president of North End Community Renewal Corporation, a board member for the Circle of Life Thunderbird House and is currently serving on the board for Marymound Inc. His committee work currently includes United Way of Winnipeg's Council for Indigenous Relations and is an advisor to the Garden of Compassion initiative. Michael is known for his straight up and heartfelt style that will leave you moved, inspired and ready for action.
Margaret Rempel is a farmer from southeastern Manitoba, who enjoys meeting other farmers around the world who share in her passion for growing food. She owns and operates a mixed farm which includes 1600 acres of crop land, a hog enterprise as well as meat goats and pasture-raised chickens. Together with her late husband Ronald, she lived and worked as a community development volunteer with Mennonite Central Committee in northeast Brazil from 1975 to 1978. Margaret has been involved in agriculture policy development for several decades, including with such organizations as Keystone Agricultural Producers, MB Rural Adaptation Council, the Canadian Agri-Food Policy Institute, and MB Pork Council. She served on the Board of the Canadian Foodgrains Bank from 1997-2004, chairing the Board for the last four of those years. She has traveled extensively across Canada as well as in Central and South America, Europe, South Africa, India and Bangladesh. Imagining creative food production and food distribution possibilities continues to energize her global citizenship.
Pablo Felices-Luna was born and raised in Peru but came to Canada more than 25 years ago. He trained at the University of Victoria and York University. Like many theatre artists, he has worked in a number of disciplines: as a director, stage manager, technical director, production manager, translator, and as an artistic director. He started out by creating shows for small groups of 20-25 preschool age children, and moved on to work with companies like Rosenath Theatre and Theatre Beyond Words, as well as touring shows for young audiences with Young People's Theatre, MTYP, Youtheatre. He also worked with youth through the Young Companies at Showboat Theatre and Theatre Orangeville, and through a play-devising program called Commotion. In his time at Carousel Players, he directed 15 different productions. He is particularly proud of the 7 new plays they created with 9 different playwrights. But what should you really know about Pablo? He loves his work, and cares deeply about making our experiences in theatre meaningful and transformative.
Kyra Moshtaghi Nia spends her days working on cancer prevention programs at the Canadian Cancer Society. In the evening she is a part-time student working towards her master's in Public Administration. Somewhere in the middle she volunteers with the fair trade movement, as a board member of the Canadian Fair Trade Network and committee member for Fair Trade Winnipeg. She loves to be involved and has trouble saying no, as crazy as the days are she loves how they are always full of new experiences.
---
In partnership with:

Undertaken with the financial support of: