Embracing Complexity: Evaluating the Effectiveness of Development and Humanitarian Assistance
Impact evaluations are a complex but critical component of development policy and practice. Done well, they provide evidence of the effectiveness of interventions and offer lessons for future programs. In crisis or conflict situations, however, assessing the impact of interventions is even more challenging and complex, given the urgency for immediate response. In both development and humanitarian contexts, embracing complexity is key to measuring impact.
Participants joined Aga Khan Foundation Canada for the fourth event of our series on Measuring Development Impact, Embracing Complexity with Dr. Jyotsna (Jo) Puri, Deputy Executive Director and Head of Evaluation, International Initiative for Impact Evaluation (3ie). Dr. Puri's presentation explored the evidence on what is working, how and for whom, in both development and crisis situations. She spoke about the nature of that evidence and focus specifically on areas such as climate change, governance and humanitarian assistance – areas that have traditionally received less attention in the search for evidence of development impact.
---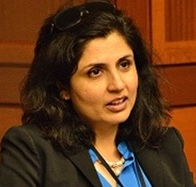 Dr. Jyotsna (Jo) Puri is Deputy Executive Director and Head of Evaluation at the International Initiative of Impact Evaluation (3ie). Jo is also adjunct faculty at the School of International and Public Affairs (SIPA), Columbia University, New York, where she teaches development evaluation. She is currently advising International Fund for Agriculture Development (IFAD), World Food Program (WFP) and Alliance for Green Revolution Africa (AGRA) on impact evaluations of programmes related to humanitarian assistance, agriculture and environment. She is also currently working on an edited book with two others, that synthesizes studies that evaluate climate change programmes Jo leads 3ie sector-based work on themes such as social norms, agriculture, nutrition, community engagement and environment. She was also an adviser on the policy and technical aspects of the Green Economy report produced by United Nations Environment Programme (UNEP).
Jo has more than 21 years of experience in policy research and development evaluation. She has undertaken and led evaluation related work for the World Bank, United Nations Development Programme (UNDP), United Nations International Children's Emergency Fund (UNICEF), Global Environment Facility (GEF) and the MacArthur Foundation. Her research has focused on analyzing poverty impacts of policy and infrastructure investments in Asia and Latin America as well as environmental trade-offs in developing countries. As policy adviser at UNEP she has provided thematic and strategic advice on program development and engaging governments at various levels for effective delivery of outcomes for equitable, green growth transitions. She is the lead author of a book on measuring and interpreting monitoring and evaluation indicators prepared for the Human Development Report Office and published by UNDP; Co-author of a book examining implications of Joint Implementation of Climate Change commitments for developing countries and led the publication of a synthesis report on Forests in a Green Economy published by UNEP. She sits on the board of Community of Evaluators, South Asia and the Geneva based Humanitarian Quality Assurance Initiative (HQAI). Jo's academic qualifications include a Ph.D. and M.Sc. in Resource Economics and a Masters in Development Economics.
---
Undertaken with the financial support of: