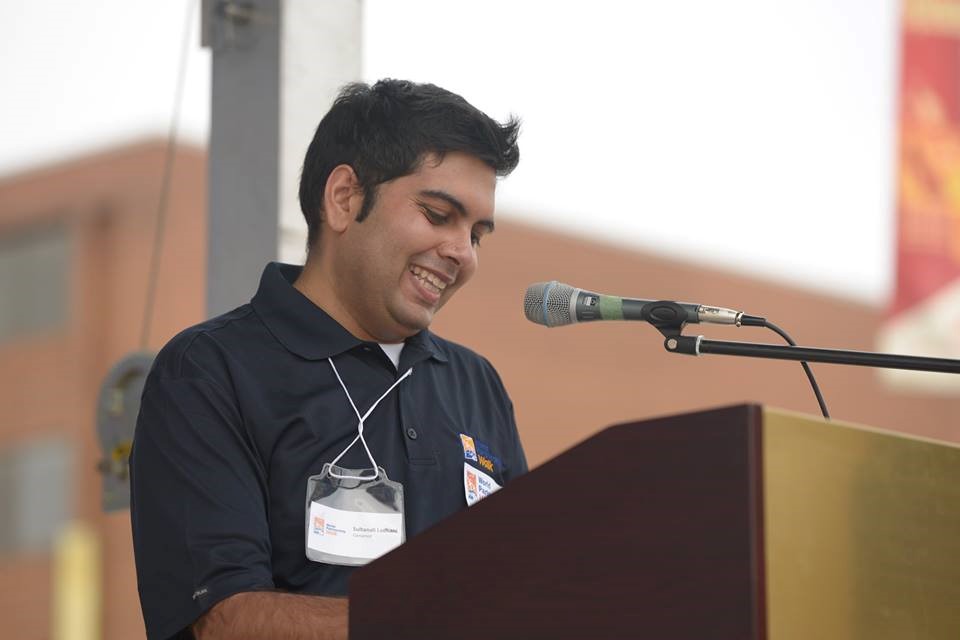 "It had become a tradition for some of us on Walk day to gather around at noon and print the fundraising results together. Looking at that final total was always a heartwarming feeling because it reminds you of what is possible when people coast-to-coast come together and unite around a cause."
It would be apt to describe Sultanali Ladhani as one of our World Partnership Walk "rock stars." Sultanali truly epitomizes the commitment, determination, and professionalism of our world-class Walk volunteers.
Sultanali is a big believer in "providing a hand-up to anyone in need," as he describes it, and this is the very reason he was inspired to join the Walk team.
"The Walk in support of AKFC provides an opportunity to lend a helping hand to those in need through sustainable development, whether it is through a daycare centre for children in Bangladesh or a small business program in Cabo Delgado, [Mozambique]," he says.
Sultanali describes the volunteer learning opportunities with the Walk as "endless." He joined Walk as a university team captain and fundraiser, organizing a carnival on campus to raise funds, but he has come a long way since then. He worked his way up to city chair, leading the Kitchener-Waterloo Walk, giving him personal and professional development opportunities at a young age.
"I am still early in my professional career, so this was a great opportunity to learn how to recruit and manage a team of people," he says. "In addition, I have always wanted to know what it takes to run a business and serving as the city chair was a great simulation in learning what it takes to be successful, from building a strategy to grow the Walk to surrounding yourself with good people on your team."
Today, Sultanali is one of our volunteer national directors, leading on market development strategies for the Walk. As a passionate and seasoned Walk fundraiser, Sultanali is perfectly suited for this exciting new role.
For 2017, Sultanali is leading a new Walk initiative called "Fundraise My Way" aimed at arming Walk ambassadors with a fundraising toolkit to help them develop unique and fun activities to raise funds. Everything from a lemonade stand, to a BBQ or pet wash are in the mix.
"This is a fun way for people to get involved with the Walk by challenging them to get creative in holding a fundraiser of their own," he says. "This is a great opportunity for new participants to get involved so we will be looking to you all to build momentum with this initiative!"
If Sultanali could offer one piece of advice to someone considering volunteering for the Walk it would be to go for it, and if you are prepared to work hard, the sky's the limit.
"Like any other professional organization, AKFC looks for hard-working, dedicated people and if you put in the time and effort, they will make sure you have the opportunity to grow within the organization and experience the many initiatives AKFC is involved with."
Join Canada's largest movement to end global poverty!
Visit www.worldparnershipwalk.com to sign-up as a World Partnership Walk volunteer, and be sure to follow us on Facebook and Twitter for updates on our March 7 launch and Fundraise My Way toolkit.