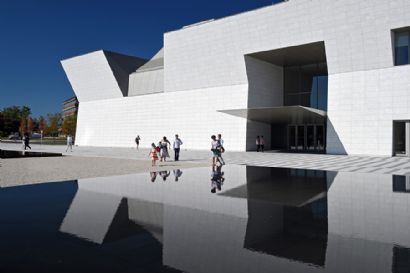 September 15, 2014 – The newest member of the Aga Khan Development Network (AKDN) is opening its doors to the public on Thursday, September 18. The Aga Khan Museum in Toronto is dedicated to presenting the artistic, intellectual and scientific contributions that Muslim civilisations have made to world heritage.
The museum is the first museum in North America dedicated to the arts of Muslim civilisations. Its permanent collection of over 1,000 objects includes masterpieces that reflect a broad range of artistic styles and materials. These portraits, textiles, miniatures, manuscripts, ceramics, tiles, medical texts, books and musical instruments represent more than ten centuries of human history and a geographic area stretching from the Iberian Peninsula to China.
An inauguration of the museum and the adjoining Ismaili Centre Toronto took place on Friday, September 12 by His Highness the Aga Khan and Prime Minister Stephen Harper.
For more information about the opening, please visit akdn.org.