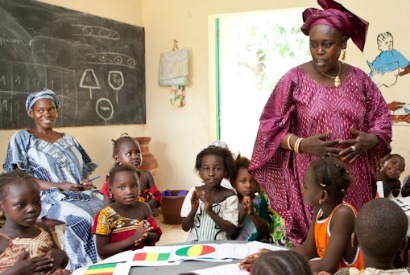 October 20, 2014 – AKFC is pleased to announce partnership in a new program to improve education for 58,000 boys and girls in Mali. The partnership is led by Plan International, in collaboration with AKFC, Save the Children, and World Vision.
Improving Access to Healthy and Safe Primary Schools & Preschools is a $23.5-million program ($20 million contributed by the Department of Foreign Affairs, Trade and Development, and $3.5 million contributed by the partner organizations) that will improve school infrastructure and promote better school management and governance in Mali. It will also support rich learning environments for students in preschool and primary school, including improvements in nutrition, hygiene, violence prevention, and gender equality.
"A strong school system is a core building block of any resilient society," said Khalil Z. Shariff, CEO of AKFC. "Quality education does not only focus on academic achievement – it provides students with the opportunities to build the necessary social, physical, and emotional skills to meet challenges head-on, and contribute to their community as well-rounded citizens."
Visit the Department of Foreign Affairs, Trade and Development's website to read more.
Learn more about AKFC's work in girls' education.
Learn more about early childhood development and why it's important.