December 8, 2016 – Holidays are a time of giving, to be shared with family and friends. But in Ghiramara, a rural village in Bangladesh, strong family ties bond the community together throughout the year. In this village, parents and grandparents go above and beyond to craft a brighter future for their children – literally!
Aga Khan Foundation Canada supports programs designed to educate families on parenting skills, nutrition, and hygiene, and to encourage parents – both fathers and mothers – to play an active role in their child's development. Sometimes, that means putting local crafting skills to good use.
In villages like Ghiramara, it's not unusual to see mothers sew fish made of felt, or fathers craft bows and arrows out of local materials like bamboo. Often, these toys are given to a local preschool to enrich the classroom and give children new opportunities to play and learn.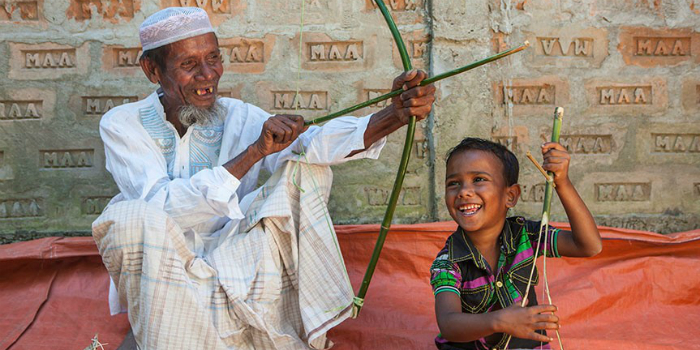 A grandfather builds a bow and arrow from bamboo, and shows his grandson how to use it.
In addition to supporting parenting programs, AKFC has partnered with local schools to improve early childhood education for young children, like offering training for teachers. These schools are valued by the whole community, as parents watch their children grow and thrive.
The schools, and the toys, play an important role in breaking the cycle of poverty. Engaged caregivers and a stimulating environment at home and school are critical for brain development in young children, setting them up to reach their full potential as they grow. And when children have the opportunity to play together, they learn social skills like sharing, negotiating, resolving conflicts, and advocating for themselves — essential lessons for overcoming obstacles as they grow into adults.
With your support, we can empower more parents to build a brighter future for their children. Give the gift of empowerment this holiday season: