This month, we offer you a sneak preview of our upcoming World Partnership Walk Report in the form of a letter penned by AKFC CEO Khalil Shariff and AKFC National Committee Chairman Amin Lalji. Stay tuned for the full report.
---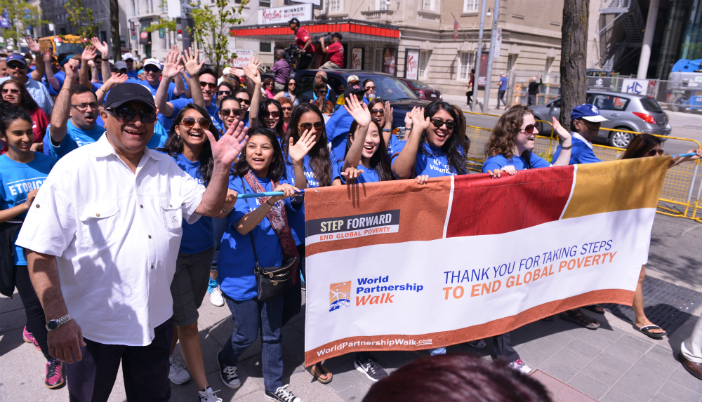 Too often, the news reports we received from many parts of the world this year were troubling, filled with haunting images of conflict, violence, and human suffering. In the face of such stories it can be hard to be hopeful that a brighter future is possible.
And yet, in 2015, thousands of individuals like you stepped forward with confidence that they could make a difference in the lives of millions living in poverty. You stepped forward in ten cities across Canada: Calgary, Edmonton, Kitchener-Waterloo, London, Montreal, Ottawa, Regina, Toronto, Vancouver, and Victoria. You stepped forward with the World Partnership Walk, Canada's largest event in the fight against global poverty.
The Walk is a key part of AKFC's work in Canada – a national campaign that requires the talent and dedication of thousands of volunteers and sponsors. As they will tell you, the Walk provides not just an opportunity to give, but also to learn, to grow, and to engage as global citizens. Over 6,000 volunteers, 569 teams and our many corporate sponsors gave generously of their time, skills and knowledge to make this year's Walk a success. We are pleased to feature some of their stories in this report.
Thanks to your commitment, the Walk raised over $7 million in 2015. Those funds will go directly to support AKFC's development programs in Africa and Asia – initiatives that enable women and men to lift themselves and their children out of poverty, creating strong, vibrant communities, hospitals, schools and businesses.
An investment with AKFC is an investment in smart development. We work in regions of the world where we can tap into the knowledge and capacities of local professionals and institutions, where we can commit to supporting development over the long-term, and where we can address the roots of poverty on many fronts.
Your support was critical to the launch of a major new program in partnership with Global Affairs Canada to improve maternal, newborn, and child health in four countries: Kenya, Mali, Mozambique, and Pakistan. This initiative will reach more than one million people and builds on the expertise and lessons learned from AKFC's past investments in maternal, newborn and child health– the results of which are featured in this report.
As with all AKFC programs in health, education, food security and rural development, and civil society, this initiative would not be possible without your generosity. Thank you!
While we have made great strides in fighting global poverty, development takes time – and big challenges remain. Please join us in 2016 to continue to step forward for a better world.
Khalil Shariff
Chief Executive Officer
Aga Khan Foundation Canada

Amin Lalji
Chairman
AKFC National Committee