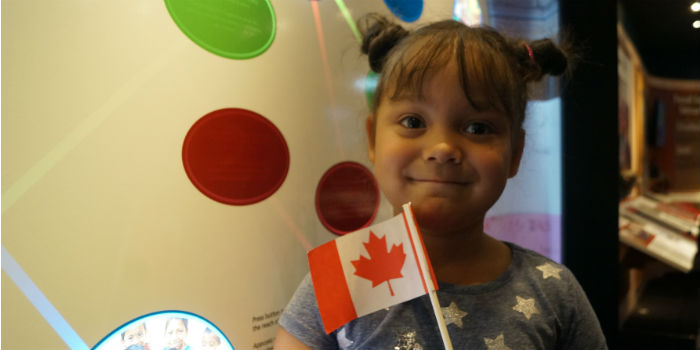 November 7, 2016–  Together: An exhibition on global development has finished the second leg of its cross-Canada tour, visiting 25 communities in western and central Canada.
Since April 2015, Aga Khan Foundation Canada has welcomed 40,000 visitors to the Together exhibition, an innovative, interactive exhibition on how Canadians are working together to alleviate global poverty.
The exhibition has travelled over 30,000 kilometres across ten provinces, inspiring visitors to tackle some of the world's biggest challenges.
Throughout the six month tour, the exhibit travelled to many public events and festivals including AKFC's World Partnership Walks,Cardston Powwow, K Days, the Canadian Museum for Human Rights, and the Franco-Festival. More than 3,500 high school students from 14 schools visited the exhibit. Once the fall semester got underway, Together made stops at the University of Winnipeg and Seneca College. Over 70 post-secondary students participated in interactive workshops to explore the challenges and solutions to global development.
Meet some of the Canadians who joined us on our journey in this special edition Flickr gallery.
Haven't seen the exhibition? Don't worry! In 2017, as part of Canada's 150th celebrations, the Together exhibition will be touring across the country to celebrate Canada's leadership in promoting a more peaceful, prosperous, and pluralist world.
Find out more and follow our journey at akfc.ca/together!