It sits nestled in the palm of my hand, a shrunken, wrinkled russet sphere that rattles softly when I shake it. I find it in Zeverdashd, a Tajik village wedged between the towering Pamir Mountains of Tajikistan and Afghanistan. It represents a livelihood for 15 women and their families.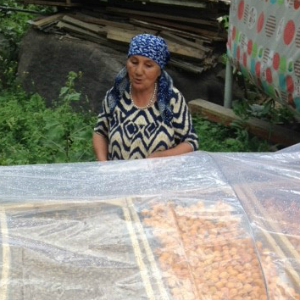 I am visiting a local women's collective that produces and sells dried apricots, led by the energetic Moira Mamadnabieva. She has been as far as Turin, Italy to explain how her collective operates, though she seems equally excited to be explaining it to me at her home. The corners of her eyes wrinkle like her apricots when she smiles.
Group members gather the apricots that fall from their trees from June to August each year. Since I am visiting in July, apricots squelch underfoot as Moira and I walk through her garden.
Apricots, pits and all, are laid out to dry in long wooden trays protected by plastic.
Moira explains to me that the trays are placed in the shade because apricots that dry in the sun become tough, while those that dry in the shade become an optimal level of chewy.
The dried apricots are then packaged and labelled. Before joining the collective, the women competed to sell their apricots in local markets. Now, the 15 members take turns selling their product – and a portion of the profits is reinvested in the business.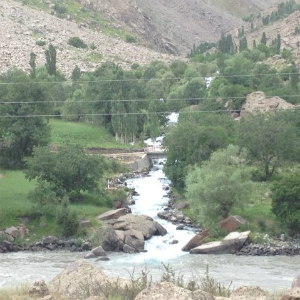 A local development program, supported by Aga Khan Foundation Canada, contributes the packaging and other supplies for now, but it also provided the women with training on how to calculate the cost of their product so that they can budget for all of their business necessities in the future.
As I walk with Moira under the green canopy of the apricot trees, patches of thick grey sky threaten rain. There has been more rain than usual in Zeverdashd this year, though "usual" is becoming more and more unusual. Where Zeverdashd residents once could anticipate the weather based on past years, climate change has thrown off any predictability. In response, village organizations are working with Aga Khan Foundation to incorporate climate change adaption measures into their Village Development Plans.
Moira's effort at English is enthusiastic, much appreciated – given my absence of Shugni (the local language), Tajik, or Russian – and helped along by a local program staff member, Adab Abdulkodirov. The English word Moira most frequently uses is "plans."
One of Moira's plans is to pipe unused stream water from Afghanistan to irrigate the collective's apricot trees. The collective does not lack for land or labour, only water for irrigation (as well as for drinking). Zeverdashd sits on the edge of the rushing River Panj, but it is too costly to pump water directly from its mighty current. The slice of Afghanistan on the other side of the river features a crystal stream that tumbles from the mountains into the Panj, but its plummeting slopes do not allow for farming. The sharing of this water resource is a distinct possibility given that cross-border Water User Committees along the Panj, supported by AKFC's field partners, manage pipes that carry water between Afghanistan and Tajikistan, depending on need.
Over a pot of green tea and fresh fruit wafting sticky-sweet scents on her veranda, Moira asks me if we have such fruits in Canada. Being from British Columbia, I describe the fruit orchards of the Okanogan Valley. Moira's questions take her to Canada and her plans take her far into Zeverdashd's future. Given her efforts and optimism, I have no doubt it will be a bright one.
Hilary Clauson is a program officer with Aga Khan Foundation Canada. Hilary was in Tajikistan to visit projects under AKFC's Supporting Civil Societies Initiative. This apricot project is implemented in partnership with the Mountain Societies Development Support Programme, undertaken with financial support from Global Affairs Canada.
Financial support: