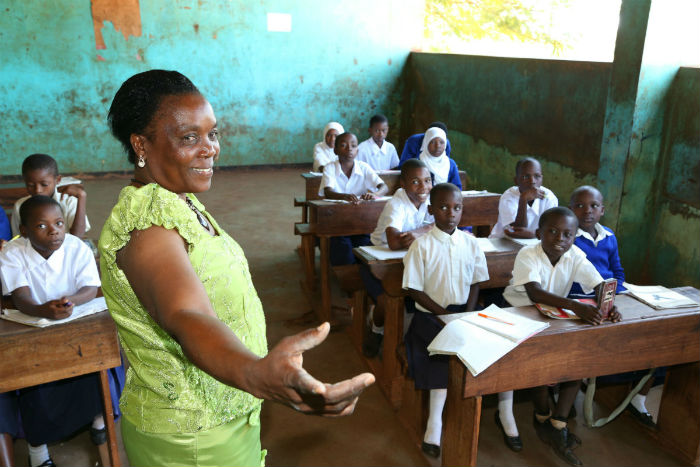 We all have a favourite teacher from when we went to school. They inspired in us a sense of boundless wonder, and motivated us to reach new heights. By engaging with us, we engaged more deeply with our studies. And with their guidance, we learned to believe in ourselves. We learned how to learn.
For teachers like Consolata Muganda at the Maji Maji Primary School in Tanzania, providing students with a strong and inspiring start to their education is not just a joy of teaching, it's a crucial part of creating lasting change. "I believe with a better education, they are able to lay the foundation for change, both in their lives and for the whole of Africa," Consolata says through a translator.
Consolata is one of many teachers who are learning to teach in new and engaging ways, through a program designed to strengthen pre-primary and primary education in East Africa. This Canadian-supported program works on many fronts to address education systems, including training teachers in innovative and interactive teaching methods, with the goal of improving learning outcomes.
According to UNICEF, Tanzania has 98.2% enrollment in primary school. Of its total population, over half are under the age of 18. Of its youth, about a third are just under the age of five.
But access to education is not enough. While high enrollment is a promising indicator of the tremendous potential contained within the schools, a lack of attention to education quality can mean that students leave primary school barely able to read or do basic arithmetic.
We know that early literacy provides the foundation for children to succeed in other endeavours in the future. We also know that education is key to breaking the cycle of poverty. That's why supporting teachers like Consolata to strengthen the quality of education in the classroom is so important. Teachers are the backbone of a good education, and their role becomes even more important in regions like East Africa, where there is often one teacher to 50 or more students. By empowering teachers through training and support, they are able to improve learning opportunities for their students.
In the classroom, lively songs are replacing the repetitive rhythm of rote learning. New methods of teaching keep students engaged as they learn to read, write, and count. Teachers supplement their classrooms' resources by making learning materials using recycled waste like cardboard boxes and plastic sacks.
"The training gave me a new perspective to move from the old methods that I used from teaching in the past," says Consolata. She hopes more teachers will be able to access the training and resources, so they will be able to provide more children across the region with a strong education.
For the students, these new methods might just seem like a fun time for stories and songs. But their teachers know that it's the beginning of a brighter future for everyone.
Want to learn more?
Financial support: