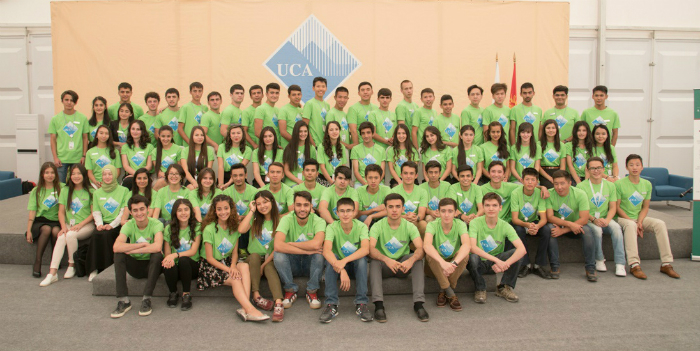 Classes are officially underway at the University of Central Asia's first undergraduate program in Naryn, Kyrgyz Republic. The inaugural cohort of 71 students is hitting the books – with a unique curriculum that has a Canadian connection.
The University of Central Asia (UCA) was founded in 2000 by His Highness the Aga Khan and the presidents of Kazakhstan, the Kyrgyz Republic, and Tajikistan.
Aiming to promote the social and economic development of Central Asia, the university also helps preserve the region's rich cultural traditions and heritages as assets for the future.
The UCA campus in Naryn, Kyrgyz Republic is unique for a variety of reasons. First, it is situated a five-hour drive from the capital city of Bishkek, in a rural mountain community of 32,000 people.
The mountains, which make up over 80 percent of the country's landscape, are Central Asia's most sustainable long-term asset. Unlocking their economic potential is one of the key pillars of UCA.
The curriculum has been specifically designed with the region's needs in mind, offering concrete career paths. It features a liberal arts core curriculum rooted in the Central Asian context and specialised study in a selected major.
Students in the inaugural class at UCA will begin their first year in a Preparatory Programme, designed in partnership with Seneca College in Toronto. This partnership between UCA and Seneca College was forged with the support of Aga Khan Foundation Canada and Global Affairs Canada, out of a shared commitment to investing in higher learning institutions – a crucial factor in the long-term development of a region.
The university also offers a fully residential experience, unlike any other in the region. Usually, attending university in Central Asia means relocating to a capital city. But at UCA, students will have the opportunity to live and learn in a campus environment. This experience will allow students from across Central Asia to exchange ideas and learn from each other, promoting diversity and pluralism.
Although the campus is half a world away, UCA has welcomed many Canadians to support their work including the university's Director General, Bohdan Krawchenko, and its Dean of Arts and Sciences, Ariff Kachra.
Also joining the inaugural staff in Naryn is Shabana Manji, a Calgary native and former AKFC staff member. She recently moved to the Kyrgyz Republic to assume a position on campus as a Student Life Advisor. We sat down to talk to her about why she took this role and how she's settling in since her move across the world.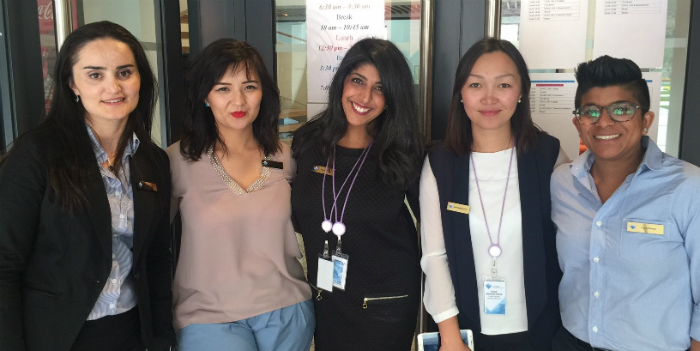 Canadian Shabana Manji (centre) with her UCA colleagues in Naryn, Kyrgyz Republic.
What made you want to get involved with UCA?
As a start-up university in the middle of the mountains and Naryn as a potential "university town," the university seemed intriguing from the very beginning. I was particularly interested in understanding the curriculum, core values and the plan for student life.
What was something you made sure you packed?
My Canadian flag.
What was your experience in the region prior to going?
Three years ago, I volunteered with Habitat for Humanity. I came to the Kyrgyz Republic and stayed in a village called Barskoon. I spent three weeks in the village, building a house with the community and fell in love with the country. I remember being in awe of the vast untouched mountains and the warmth of the people.
What is your role at UCA?
My role with UCA is a Student Life Advisor. I am part of a front-line team working with students to mentor them on leadership skills, academics, career and personal growth.
What were your first impressions of Bishkek, of Naryn?
I remember thinking about how small the Bishkek airport was when I arrived, and that nothing was written in English! Many things are similar to Canada – I had packed peanut butter and Nutella, but I could pick all those things up in the local shop in Bishkek. Naryn is much smaller, surrounded by mountains. There isn't a proper grocery store, it is mostly street bazaars. They have simple items. The people here are more nomadic and more traditional than the people in Bishkek. I've seen camels walking down the street!
What do you think of the campus – how does it compare to where you went to school?
The campus is beautiful. It's much more modern than the undergraduate school I attended in Alberta. The dorm rooms are large and roomy, each with its own bathroom. In my first-year dorm, I had to share one bathroom with about 15 students! The technology on campus is also advanced; every classroom has two 80-inch TV's and as part of tuition, all students receive a laptop they can use for the full five years.
From your first impressions, what makes UCA unique?
As you drive up, you notice the beautiful, bright building in the middle of the mountains. When you walk into the building, you get transported to a new space. It's fresh, clean and state-of-the-art. The small class sizes, the world-class facility, vast array of student services and international teachers make this university unique.
What has been your biggest lesson so far?
To be adaptable and flexible.
How are you settling into life in a small, rural community?
I am settling in well – Naryn provides a simple life, but a good life.
What kinds of challenges have you faced so far?
I've missed my family and friends as they are very far away. Isolation is a real challenge, but I've been able to meet incredible individuals who have provided me a second home in Bishkek when I need a mini-vacation from campus life.
What are you looking forward to most in the next two years?
The second UCA campus in Khorog opening and establishing a vibrant student life across both campuses.
Thinking back to your first day of classes, what advice can you share with all those going back to school?
Work hard, take risks, and ask questions. Get involved with university life and governance.
This interview was edited for length and clarity.
Learn more:
Financial support: