Apendiwe Momade sits in the shade outside her home in rural Mozambique, next to a billowing pile of dried grass.
Her legs are outstretched on one of her homemade mats, her fingers a blur as she expertly twists the grass into intricate patterns. For Apendiwe, learning to weave was just another household skill, passed down from generation to generation.
"These things are useful to us," she says. "They are useful even when we die."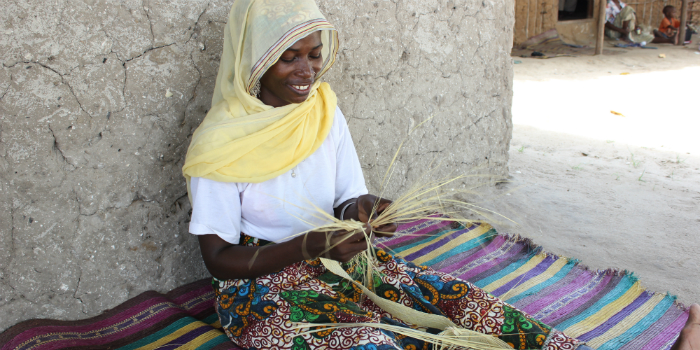 Woven mats are used every day in her rural village of Palma. Babies are laid on them to nap, and children use them as a play-mat. They're unrolled on the ground outside the front door, dampening the dust and offering a clean sitting area when neighbours drop by. When a community member dies, they are covered with a mat before burial.
Apendiwe, like many of her neighbours, learned to weave at a young age. She remembers her mother's teaching methods – when Apendiwe made a mistake, her mother would rap her knuckles with the handle of a knife.
Growing up in rural Mozambique is not easy. According to the World Bank, more than half of the population lives below the poverty line.
Education and economic opportunities are often out of reach. Apendiwe grew up without learning to read or write. As an adult, she struggled to feed her children and send them to school.
Apendiwe and her neighbours in Palma used to weave at home, alone or with a few friends. But with support from Aga Khan Foundation, they opened a weaving workshop and started working together – and turned their talents into a profitable business.
They named their workshop "Vumilia Upathe" – watch Apendiwe's story to learn what "Vumilia Upathe" means in her language… and to her family's future:
Working together means the women of Vumilia Upathe can hire other people to collect the raw materials for their weaving, and can produce larger quantities of products to sell. They were trained in the basics of business, as well as numeracy and literacy.
Meeting every Thursday at their workshop in the heart of town, they slip off their sandals on the front steps and settle in on the floor.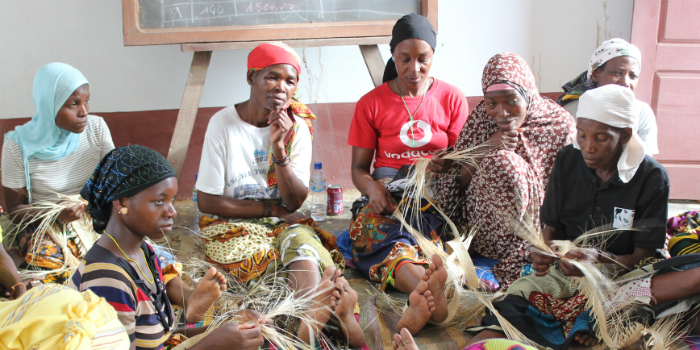 Feathery tips of the dried grasses whip through the air, as they chat, laugh, and sing as they work. The rustle of weaving is a constant whisper in the background.
Grasses are spliced into long, thin strips and braided into long bands. Tied in bundles, the bands are soaked in dyes made from local plants, steaming in aluminum pots on the doorstep of their workshop. Then they're drained, dried, and woven together to create the finished products.
A vibrant rainbow of rolled mats lean in the corner. Hats and bags decorate the walls. They sell their wares at their workshop, but most of their products are shipped south to larger cities.
Since Apendiwe joined the group, she has earned enough money to build a new home, and was recently voted vice-president of the group.
"I enjoy the work I'm doing," says Apendiwe. She plans to buy goats and build an enclosure for them, and put a better roof on the home where her mother lives. "When I am weaving… I feel good."
Financial support: