Khalil Z. Shariff, Chief Executive Officer
Khalil joined Aga Khan Foundation Canada as Chief Executive Officer in August 2005. He was previously with the Toronto office of McKinsey & Company, an international management consultancy, where he advised governments, financial institutions, and health care providers on strategy, organization, and operational improvement.
Khalil served on AKFC's National Committee for five years, and has cultivated his interest in international development and conflict resolution issues through a variety of activities including: Deputy Editor-in-Chief, Harvard Negotiation Law Review; Policy Co-ordinator and Research Associate, Harvard Program on Humanitarian Policy and Conflict Research; Legal Intern, Chambers of the Vice-President, International Criminal Tribunal for Rwanda in Arusha, Tanzania; Intern, Office of Under-Secretary-General, UN Department of Peacekeeping Operations. He was the youngest member ever elected as a School Trustee in 1993 for the Board of School Trustees in Richmond, B.C.
Khalil holds a B.A. in International Relations and Economics from the University of British Columbia and a J.D. magna cum laude from Harvard Law School.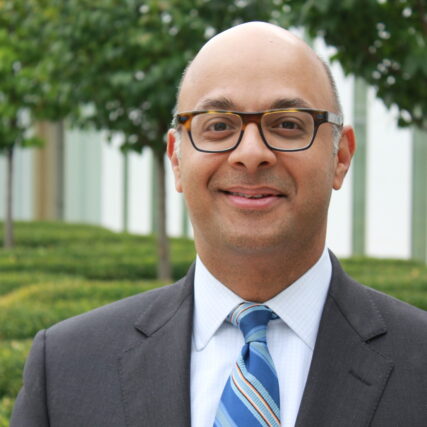 Kiersten Eyes, Director of Public Engagement and Resource Mobilization
Kiersten Eyes is the Director of Public Engagement and Resource Mobilization, leading on the next phase of Aga Khan Foundation Canada's longstanding work in building support among Canadians for global development and raising funds for AKFC's programming.  She brings to the Foundation two decades of experience in community-based fundraising and a passion for engaging volunteers and supporters.  
Passionate about engaging with people where they're at, Kiersten has held a variety of roles in organizations both large and small, rallying communities to affect change. This includes time at SickKids Foundation and the Canadian Cancer Society. As a leader, she is also committed to fostering diversity, equity, and inclusion in the workplace, ensuring colleagues can bring their whole selves to work. Kiersten is a graduate of the University of Guelph. 
Salim Ferozali, Regional Chief Financial Officer, North America 
Salim Ferozali is the Regional Chief Financial Officer and leads the Operations teams, covering Finance, Information Technology, Administration, and Donor Services, for Aga Khan Foundation units in North America. He also serves as CFO for the Global Centre for Pluralism. Before taking on this role, Salim worked for various leadership roles with AKF units in East Africa, Afghanistan, and Pakistan for over 20 years. 
Salim is a Chartered Professional Accountant in Canada (CPA, CMA). He also holds a Bachelor of Commerce from the University of Karachi and has received qualification for Cost and Management Accounting (CMA) from the Institute of Cost and Management Accountants of Pakistan. 
Steve Mason, Regional Director, North America (Programs and Partnerships)
Steve Mason is the Regional Director of Programs and Partnerships for the Aga Khan Foundation in North America, where he is responsible for managing an international development and humanitarian program portfolio spanning 20 countries, developing and maintaining relationships with a variety of governmental and non-governmental partners, and providing intellectual and organizational leadership to the Foundation. Prior to taking on this role, he was the founding Regional CEO of Aga Khan Foundation (West Africa), based in Bamako, Mali. Steve previously worked for AKF as the Manager of External Relations in Afghanistan and as the Regional Programme Manager in East Africa. Prior to joining the Foundation, he was Executive Director of the United Nations Association in Canada. 
Steve has a master's degree in International Relations from the University of Cambridge and a B.Sc in Biology-Mathematics from the University of New Brunswick. He serves on the Board of SEEP, a collaborative learning network that creates opportunities for vulnerable populations, especially women, to participate in markets and improve their quality of life. 
Kristie Kelly, Senior Manager, Human Resources (North America)
Kristie leads HR processes and practices to empower employees and enable their success within AKFC and AKF USA. She is committed to promoting an organizational culture founded in the values of the AKDN and to delivering HR strategies, programs and initiatives that support and promote an inclusive, engaging, and inspiring place to work and develop. Kristie has worked with international human rights and international development organizations for 22 years in public engagement, volunteer engagement and human resources roles. Her other roles include parent, volunteer manager, choral singer, quilter, and outdoor enthusiast!