Addressing Loss and Damage – COP27 Debrief
December 1 @ 9:30 am

-

11:00 am

EST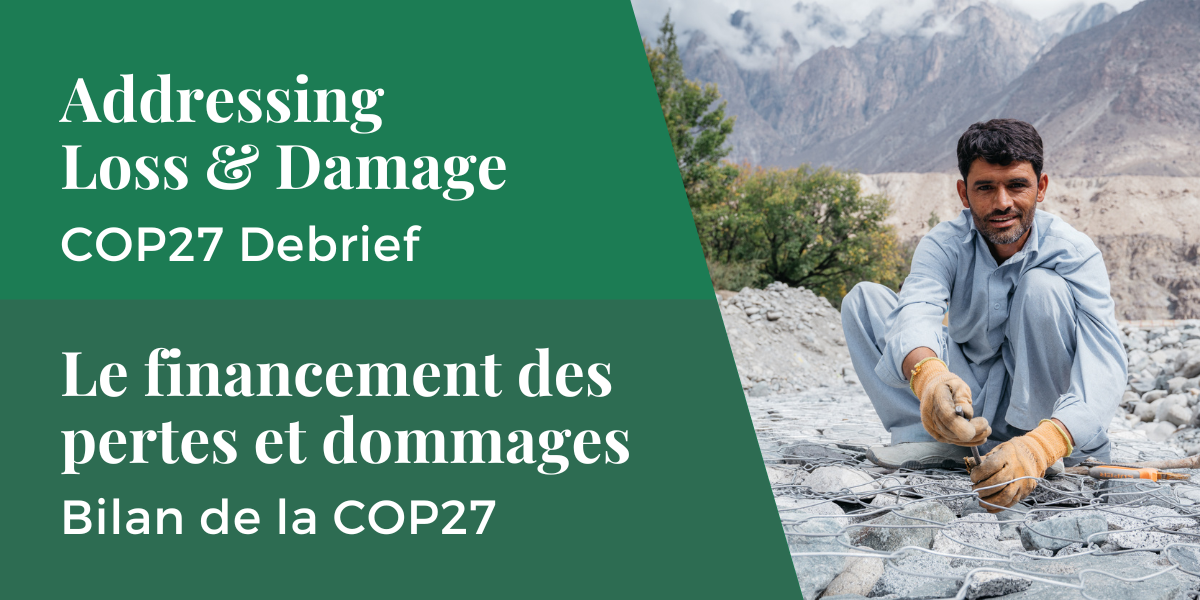 About this event
The unprecedented monsoon rains and flooding affecting Pakistan in 2022 have impacted upwards of 33 million people and claimed an estimated 1,700 lives. Tragically, Pakistan sets a strong example of why loss and damage financing is critical to recovering from adverse climate impacts that outstrip people's capacity to adapt to climate change.
With loss and damage financing on the negotiating table at COP27, it may end a long history of sidelining the discussion and create a roadmap to address the unfolding climate crisis.
On December 1, join Aga Khan Foundation Canada for a COP27 debrief conversation on the emergence and outcome of loss and damage financing as a critical issue. This panel discussion will feature representatives from the International Development Research Centre and Aga Khan Agency for Habitat on the following key areas:
Outcomes of COP27 regarding loss and damage financing
Challenges of multi-country partnership on loss and damage financing
Canada's position on loss and damage financing leading in to and post COP27
Aga Khan Development Network's response to flooding in Pakistan and approach on long-term recovery
Key Information for Attendees
When you register, please indicate your interest to attend in-person at the Delegation of the Ismaili Imamat or to attend online (Zoom) by selecting the relevant ticket option.
In-person attendees are welcome to arrive by 9:00am, to network and enjoy light refreshments.
Speakers
Erin Tansey
Erin is the director of the International Development Research Centre's Sustainable Inclusive Economies program.
Erin joined IDRC in November 2020. She brings over 20 years of experience in international development and humanitarian sectors within Canadian and international non-governmental organizations, United Nations agencies, and bilateral development programs. She worked with the World University Service of Canada in Malawi, CARE Canada in Bosnia Herzegovina, the United Nations Refugee Agency in Thailand, Algeria and Ghana, the United Nations World Food Programme in various countries in sub-Saharan Africa, and with the United States Agency for International Development in Pretoria, South Africa. Erin has worked on various applied research projects and was the coordinator of research for the International Organization for Migration's Partnership on HIV and Mobility in Southern Africa, generating new evidence and thought leadership in applied policy in this field.
Most recently, Erin worked on a governance program with Global Affairs Canada together with the South African government. She holds a Bachelor of Arts in Political Science and French Literature from the University of Western Ontario and a Master of Arts in Political Science from the University of Windsor.
Catherine Stewart
Catherine Stewart was appointed as Canada's Ambassador for Climate Change in August 2022. With over 25 years in the federal government, Ambassador Stewart's most recent role was Assistant Deputy Minister of International Affairs at Environment and Climate Change Canada (ECCC). Since 2014, she has served in senior executive roles at ECCC including as Canada's Chief Negotiator for Climate Change, Director General Multilateral Affairs and Climate Change, and Director General for the Americas. Prior to joining ECCC, Ambassador Stewart was Director, Strategic Policy and Integration for the National Fighter Jet Procurement Secretariat and served as an executive at the Privy Council Office. She also worked on defence and security policy at the Department of National Defence over the span of a decade, covering areas such as Cabinet affairs, Ministerial speechwriting and Canada's participation in the NATO Alliance. Prior to joining the federal government, Ambassador Stewart worked on a United Nations peacekeeping and electoral mission in Mozambique. She holds a Bachelor of Arts from McGill University and a Master of Arts in Public Administration from Carleton University, and is married and has three sons.
Nusrat Nasab
CEO Aga Khan Agency for Habitat Pakistan
Moderator
Kate Higgins, CEO Cooperation Canada
Kate recently joined Cooperation Canada as Chief Executive Officer. She is an accomplished leader and experienced manager, with over fifteen years of experience in international development, civil society, think tanks, and government. Before joining Cooperation Canada, Kate was the Deputy Executive Director of Oxfam Canada, where she led the organization's work on strategy and communications and spearheaded several organizational change initiatives, in addition to serving as Interim Executive Director in 2020. Kate worked for CIVICUS, a global alliance of civil society organizations, where she led strategy development and the organization's work on data, sustainable development, and citizen action. She has held senior policy and research roles at the North-South Institute and the Overseas Development Institute, leading work on chronic poverty, protracted conflict, women's economic justice and international assistance and building several global, multi-stakeholder initiatives. Kate started her career at the Australian Agency for International Development (AusAID), working on the Indonesia and Papua New Guinea programs. She has lived and worked in Australia, Canada, Papua New Guinea, South Africa, Thailand, and Uganda and has undertaken missions in several other countries. Kate has degrees in economics and development studies from the University of Oxford and the University of Sydney.