Cautionary tales of complex causation: Qualitative and mixed method impact assessment of climate change and livelihood transformations in Africa
Participants joined Aga Khan Foundation Canada for the fifth event of our series Measuring Development Impact with Professor James Copestake from the University of Bath. Dr. Copestake's research takes a fresh, empirically grounded look at how we can strengthen qualitative and mixed method impact evaluation by benchmarking different methods against each other. Dr. Copestake drew upon his own action research into the complex causal attribution problems arising from climate change and livelihood transformations in Ethiopia and Malawi.
---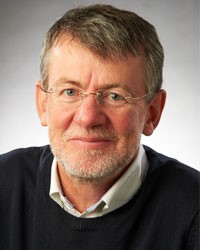 James Copestake is Professor of International Development at the University of Bath. His research interests include rural development and agrarian change; development finance, microfinance and aid management; definition and measurement of well-being and poverty; and the global political economy of development. James was Principal Investigator for the ESRC-DFID funded 'Assessing Rural Transformations' (ART) project. The ART consortium includes Evidence for Development alongside the University of Bath, Gorta Self Help Africa and Farm Africa, and seeks to broaden the range of credible and cost-effective evaluation methodologies available for assessing rural development interventions in complex contexts.
---
Undertaken with the financial support of: