Maternal, Newborn and Child Health: A Challenge for West Africa
November 10, 2014

-

November 11, 2014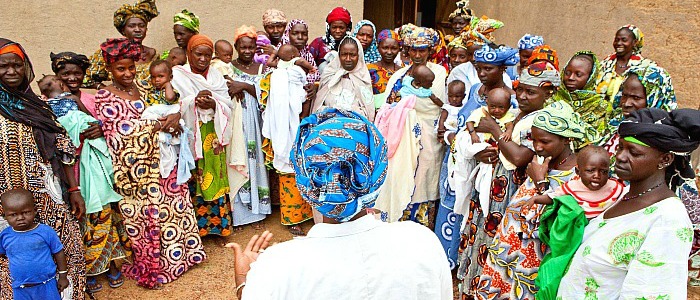 We traveled across Quebec to bring this exciting discussion to your university!
Event details:
This event has taken place at Université Laval and Université de Montréal.
Speakers:
Dr. Mamadou Koné Program Manager, Health, Aga Khan Foundation Mali
Dr. Mamadou Koné has almost 15 years of experience in managing and coordinating community health programs within large international health organizations. In February 2012, he became Health Program Manager for Aga Khan Foundation Mali. Prior to this, Dr. Mamadou worked for different international NGOs: Motherland international (1998-2001); Aide Médicale Internationale (2002); and Action Mopti (2003-2012). During this period, Dr. Mamadou worked on various health related issues within international development: maternal and child health, HIV, nomadic health, health in school environments, medical and psycho-social care for orphans, and sexual and reproductive health among adolescents. His extensive knowledge of his country's healthcare system allows him to act as a consultant and to support health-related decision-making.
Dr. Aboubakary Gollock, Research Professor, Université Cheikh Anta Diop de Dakar
Aboubakry Gollock is a consultant and associate researcher professor at the Cheikh Anta Diop University (UCAD), in Dakar. He holds a PhD in Economic Sciences from the Pierre Mendès France University (UPMF) in Grenoble as well as a post-doctorate in public health (Axe Santé mondiale) from the Research Centre of the CHUM (Centre hospitalier de l'Université de Montréal). Dr. Gollock also conducts research in Senegal as part of IDRC's West African capacity-building initiative, which is geared toward health systems research. His research looks mainly at issues related to governance, equity and healthcare funding in Sub-Saharan Africa, at assessments of public policy and international aid, and at the economy of health-related intellectual property and innovation.
Université Laval Speaker: Dr. Slim Haddad, Professor in Global Health, Faculty of Medicine, Université Laval
Slim Haddad is a physician specializing in public health and also holds a PhD in Economics. He teaches in the fields of program planning and evaluation, international health, health economics and applied research methods for population health. He is actively involved in global health research. His investigations address the fight against malaria and child anemia in Africa, the promotion of vaccinations and the reduction of maternal mortality. His current research examines the sources of vulnerability among young children and mothers, the analysis of inequalities in healthcare and access to services, and the impact assessment of population interventions in the development context. He has coordinated the completion of numerous research projects and programs in Sub-Saharan Africa and South Asia. He manages "Santé-Cap", an inter-university research training program in world health, as well as the Teasdale-Corti research team on vulnerability and health in West Africa.
Université Laval Moderator: Dr. Jacques E. Girard, Associate Dean, Population Health, Université Laval
Jacques Girard has specialized in community health since 1981. After a three-years of international cooperation experience in Africa, he joined the Faculty of Medicine at Université Laval in social medicine, health systems analysis, primary healthcare and global health. In October 2005 he worked as an international consultant in the development of health systems and services in Chile and Mexico. In 2012 Dr. Girard was appointed Associate Commissioner for Appreciation and Analysis at the Health and Wellbeing Commissioner's Office. More recently, he became medical assistant for Quebec City's public health regional director. For the last two years, he has been the Dean's assistant in population health, and he has worked in particular on global health development at Univesité Laval's Faculty of Medicine.
Université de Montréal Speaker: Dr. Valéry Ridde, School of Public Health, Université de Montréal
Valéry Ridde, PhD, is an associate professor at the Université de Montreal's School of Public Health, a researcher at CHUM's Research Centre and he holds a research chair in applied public health at the Canadian Institutes of Health Research. His research interests include universal healthcare, health services funding, assessment of world health programs and related public policies, and healthcare access equity. His PhD in community health from Université Laval in Québec City looked at public policies related to health and equity in West Africa (the case of the Bamako Initiative in Burkina Faso). He has published over 120 articles in academic journals. His scientific writings and reflections can be found here.
Université de Montréal Moderator :Dr. Lucien Albert, Director, Unité de santé internationale
Lucien Albert specializes in management and change within health organizations. He co-founded the International Health Unit (USI) at Université de Montreal in 1996 and has been its director ever since. This organization is affiliated with Université de Montreal's School of Public Health and to its hospital (CHUM). In his role as director, Mr. Albert manages the development, planning and coordination of international health projects in more than 30 countries. He has supported the design and implementation of healthcare reforms (including hospital reforms) in several countries, supported strategies aimed at improving human resources systems, supported the inauguration and management of various hospitals, led numerous restructurings and audits, supported health planning at the national, regional and local levels, and has supported the strategic planning of several teaching and health institutions. These programs have been carried out directly for developing countries or for bilateral or multilateral cooperation organizations such as the World Bank, the World Health Organization, DFATD, the French Development Agency (ADF) and private foundations, among others.
This series was undertaken with the financial support of the Government of Canada through the Department of Foreign Affairs, Trade and Development.