Nature-Based Solutions, Climate Resilience, and the SDGs 
June 23, 2022 @ 9:00 am

-

10:30 am

EDT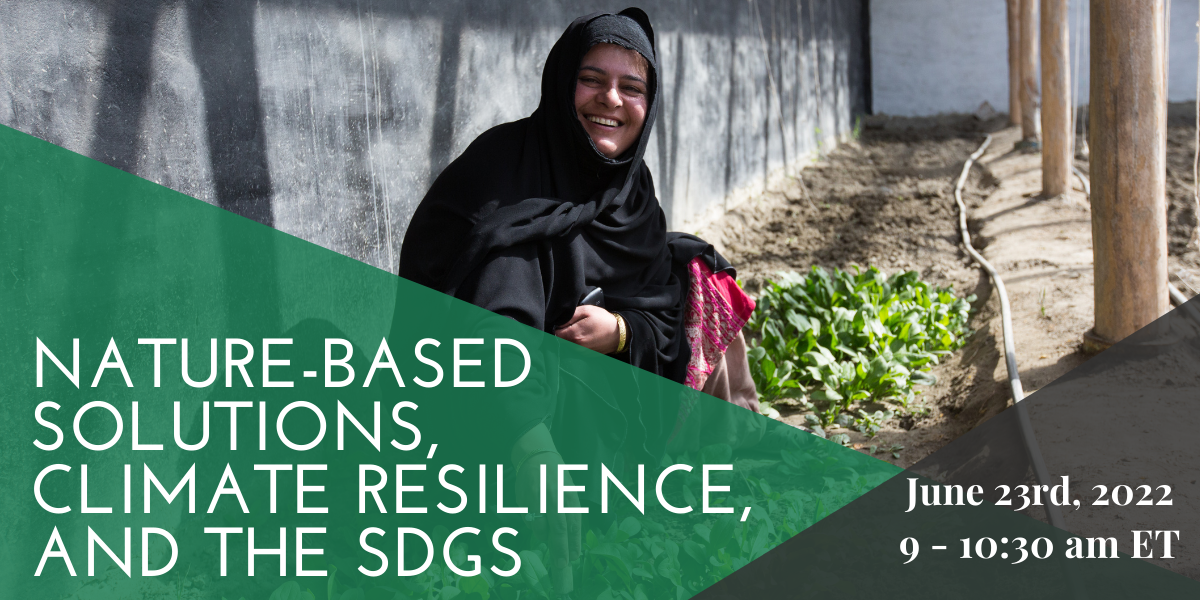 From mangrove forests in coastal villages to green roofs on city skyscrapers, nature-based solutions are one of the most powerful – and most underutilized – approaches to mitigate and adapt to climate change. By protecting, restoring, and sustainably managing ecosystems, nature-based solutions offer the potential to reduce climate-related risks and address the biodiversity crisis, while delivering social and economic benefits to those living within these ecosystems.   
On June 23, Aga Khan Foundation Canada is pleased to host Nature-based Solutions, Climate Resilience, and the SDGs, welcoming a panel of experienced practitioners who aim to reduce climate risks, advance climate resilience, and support the achievement of Sustainable Development Goals (SDGs). Panellists will discuss the imperative of using nature-based solutions to address climate change and biodiversity loss and share examples of ongoing initiatives and available resources that organizations can draw on to strengthen their own work in this area.  
In addition to the panel discussion, participants will be invited to participate in breakout groups led by the speakers. These breakout groups will provide the opportunity to discuss the policy considerations, opportunities, and challenges of using nature-based solutions in development projects aimed at mitigating and adapting to climate change.  
---
Key Information for Attendees
When you register on Eventbrite, please indicate your interest to

attend in-person

at the Delegation of the Ismaili Imamat

or attend online (Zoom) by selecting the relevant ticket option.

Please note that proof of vaccination will be required to join in person.

 

 

In-person attendees are welcome to arrive from 8:45 am, to network and enjoy light refreshments. 

 

 
Event Format/Breakout Sessions
The event will include breakout sessions with each panellist focusing on implementation and/or policy. 
In-person participants will be welcome to join a breakout session with Patricia Fuller or Jimena Eyzaguirre.

 

Online participants will be welcome to join a breakout session with Didier Van Bignoot or Benjamin Simmons.

 

Please specify your preference for breakout sessions as you fill out the registration form. Space in each session is limited. While we will work to accommodate all preferences, we may shift participants if a session is oversubscribed.

 
This event will be offered in English only.  Questions? Please contact [email protected]  
---
Speakers
Moderator:
Patricia Fuller
Senior Fellow at the Graduate School of Public and International Affairs at the University of Ottawa and former Climate Ambassador for the Government of Canada  
Patricia Fuller has extensive experience in international affairs and public policy with a specialization in climate change and energy. She served as Canada's Ambassador for Climate Change from 2018 to 2021, leading engagement with international partners on initiatives related to climate change mitigation and adaptation and promoting Canadian clean technologies in international markets.    
Her diplomatic career included serving as Ambassador to Chile from 2012 to 2015 and as Ambassador to Uruguay from 2004 to 2007. From 2015 to 2017 she managed Canada's Office of Energy Efficiency where she oversaw federal regulations governing energy-using equipment and products, as well as a wide range of federal programs supporting energy efficiency in industry and households. Other executive roles have included responsibility for Canada's participation in multilateral development banks, and Chief Economist for Global Affairs Canada.    
Patricia Fuller holds an MSc. with distinction in International Political Economy from the London School of Economics and a Bachelor of Arts in Economics and Political Studies from Queen's University.  
Panellists:
Benjamin Simmons
Director, Sustainable Infrastructure, and Director, Nature-Based Infrastructure Global Resource Centre at the International Institute for Sustainable Development  
Benjamin Simmons is Director of Sustainable Infrastructure and Director of the Nature-Based Infrastructure Global Resource Centre for IISD's Economic Law & Policy Program. In these roles, Ben manages IISD's work related to sustainable infrastructure, sustainable finance, and public procurement. 
 
Ben has over 20 years of experience establishing and leading global environmental partnerships and initiatives. Most recently, he worked at the United Nations Environment Programme (UNEP) where he held a number of senior positions, including Head of Secretariat for the Green Growth Knowledge Partnership (GGKP). In this role, Ben was responsible for establishing the initiative and developing and implementing its vision, mission, strategy, and work program. 
 
Prior to this, Ben coordinated the Economics of Ecosystems and Biodiversity (TEEB) initiative at UNEP and worked as Head of the UNEP Trade, Policy, and Planning Unit. Ben also served as UNEP's focal point to the United Nations Innovation Network and created the Geneva Environment Lab, a staff innovation network. Before joining UNEP, Ben worked as an environmental lawyer for Arnold & Porter LLP in New York City and served as a Peace Corps volunteer in southern Senegal. 
 
Ben holds a Juris Doctor from Columbia University's School of Law and a Master of International Affairs from Columbia University School of International and Public Affairs. He is based out of Washington, D.C.  
Didier Van Bignoot
Global Advisor, Agriculture, Food Security, and Climate Resilience at the Aga Khan Foundation  
Agronomist and professional trainer of trainers in regenerative agriculture, Didier is a Swiss national with more than 22 years of experience working in integrated rural development, value chain integration, farm system management, food security, and climate resilience building in Africa, the Indian Ocean Islands, Asia, and the Middle East. He joined Aga Khan Foundation in 2014, supporting globally the Agriculture, Food Security, and Climate Resilience portfolios, and is currently based in Dar Es Salaam, Tanzania.  
Jimena Eyzaguirre
Senior Climate Change Adaptation Specialist, ESSA Technologies  
Jimena is the international team director and business lead for climate change adaptation at ESSA Technologies Ltd. She has 18 years of experience in policy-relevant research and analysis. Her work since 2006 focuses on equipping individuals and organizations to understand and incorporate the implications of climate-related risks and vulnerabilities into plans and decisions that affect environmental and social outcomes. She has a breadth of Canadian and international experience in adaptation and climate resilience, including in program design, policy analysis, vulnerability assessment, knowledge synthesis and monitoring and evaluation. Jimena is vice president of the Canada-Mathare Education Trust, a Canadian volunteer-run charitable organization dedicated to advancing education in Kenya.  
---
About the series
Nature-Based Solutions, Climate Resilience, and the SDGs is part of Aga Khan Foundation Canada's event series on climate change resilience and adaptation. This series aims to bring together practitioners, advocates, and others who share an interest in exploring innovative ideas for advancing just climate actions and delivering on the Sustainable Development Goals (SDGs).   
Featured speakers explore and engage the audience in discussions on how we may use the climate crisis as a catalyst for great leaps in addressing the complex challenges involved in confronting climate change in a manner that advances sustainable development, well-being, and resilient livelihoods for all.