August 21, 2015 – AKFC is pleased to announce a new $31-million program to improve the health of families in some of the most vulnerable parts of the developing world.
Globally, more than 17,000 children under the age of five die each day, and every two minutes, a woman dies due to complications in pregnancy or childbirth.
This new program will tackle these challenges head-on, investing in communities where maternal, newborn, and child health is particularly poor, and where women and children can't access essential health services.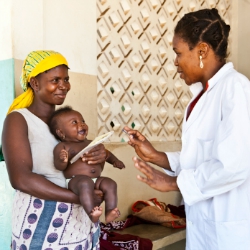 A mother receives advice for caring for her baby at a clinic in Miezi, Mozambique – such as tips for proper nutrition and hygiene. Globally, poor nutrition causes 45 percent of deaths of children under five, amounting to almost three million deaths each year.
More than one million people in Kenya, Mali, Mozambique, and Pakistan will benefit from these investments to improve medical facilities and training for local health professionals. With a focus on programming at the community level, families will have new access to better health information and services closer to home.
The initiative will also support research aimed at improving family health through a partnership with the Centre for Global Child Health at Toronto's Hospital for Sick Children (SickKids), and other research partners.
The initiative draws upon the distinctive capabilities of the various Aga Khan Development Network agencies involved across the spectrum of each country's health needs, including: the Aga Khan Foundation, Aga Khan Health Services, Aga Khan University, and Aga Khan Planning and Building Services. Each agency will contribute its specialized knowledge and resources to ensure the relevance and sustainability of the programming in all four countries.
AKFC will contribute $6 million of the total program budget, sourced from Canadians' donations through the World Partnership Walk and World Partnership Golf tournaments. The balance of the funding – $25 million – is provided by the Government of Canada through the Department of Foreign Affairs, Trade and Development.
The program was selected through the government's Partnerships for Strengthening Maternal, Newborn, and Child Health call for proposals, a $420-million commitment by the Government of Canada between 2015 and 2020.
This initiative builds on the successful Muskoka Initiative Partnership Program which saw significant results between 2012 and 2015, including the training of more than 113,000 health workers and life-saving vaccinations for more than 5.8 million children.
For more information: