On February 12, 2021, in celebration of International Development Week, Aga Khan Foundation Canada hosted a virtual event, inviting leading researchers to discuss historical perspectives on efforts to engage the Canadian public in international development.  
The sold-out event was hosted by David Webster, associate professor at Bishop's University and co-editor of the book A Samaritan State Revisited: Historical Perspectives on Canadian Foreign Aid. He was joined by Ted Cogan from the University of Guelph, Sonya de Laat from McMaster University, and Nassisse Solomon from Western University, all contributors to the book.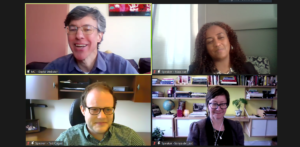 During his presentation, Ted Cogan focused on the growth of public engagement with Canadian foreign aid policy.  
"Foreign aid is messy, it's complicated, and it often involves unideal compromises. It's a long–term project; successes can take generations, and there are not a lot of opportunities for photo ops to capture the national imagination," he said. "If success takes five, 10, 20, 50 years, then we need approaches to engagement that capture and recapture interest over the long term," he concluded. 
Sonya de Laat followed, presenting her research on the Canadian International Development Agency's (CIDA) photo library.  
She said, "Significantly, when harsher images are juxtaposed alongside other positive ones in the [International Development Photo Library] collection, a narrative structure emerges. The negative photographs symbolize life without or before CIDA support, while the positive pictures symbolize a better after thanks to Canadian development assistance. The result is a CIDA iconography that bolsters uncritical support for their work, for who could deny the importance of Canadian aid in the presence of those smiling faces?" 
Nassisse Solomon rounded out the plenary with her research on how Canada mobilized during the Ethiopian famine crisis from 1984 to 1988. She concluded, "In 2016, [Ethiopia] was faced with one of the world's worst droughts in 50 years, then an estimated 10.2 million people were in need of assistance, leading many to proclaim 'history was repeating itself.' However, there was no encore presentation of Band Aid phenomenon. Instead, it is clear that the seeds for popular disenchantment were sowed in the 1984 to 88 period." 
Following the presentations, thought leaders from across Canada's international development sector engaged in dynamic dialogue in breakout room sessions, discussing the three key themes of the event: public opinion, documentary photography, and crisis response. 
AKFC CEO Khalil Z. Shariff closed the event by thanking the speakers and guests, saying, "I encourage everyone to take advantage of these historical perspectives. They have been insightful for me and given me a lot of food for thought as we think about how we might chart our future, in a principled way, in light of everything we've learned over the last decades of Canadian contributions to a more peaceful, prosperous, and pluralist world for all." 
Missed the event? You can read each presenter's chapter below: 
The book, A Samaritan State Revisited: Historical Perspectives on Canadian Foreign Aid, is also available online for purchase or as a free PDF through the University of Calgary Press. 
Interested in attending future learning events for international development professionals? Be sure to sign up to our mailing list to stay up to date. 
With financial support from: