In January 2016, Aga Khan Foundation Canada invited artists from across the country to create a piece of artwork for Together: An exhibition on global development, showing why they care about global development. 30 contestants then encouraged people from across Canada and the world to vote for their submission online. Over 8,000 votes were cast and 13 finalists were chosen.
We are very pleased to announce the top three winners of the contest!
---
First place goes to artist Shamya Jaffer who received 1,473 votes. Her work will be displayed in the exhibition during the 2016 cross-Canada tour.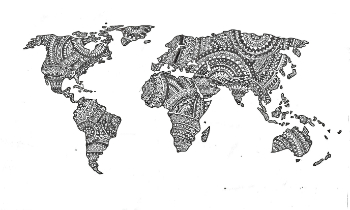 Artist Statement:
"My art piece is a map of the world filled with different, detailed patterns that connect and overlap with each other, symbolizing inter-connectedness between countries and continents. The patterns are inspired from Swahili and Indian designs.
The incorporation of different forms of art into one piece is a representation of global diversity. At first glance, it may seem like a simple concept but it has depth and complexity just like global development and diversity."
---
Second place: Gesture by Safira Lakhani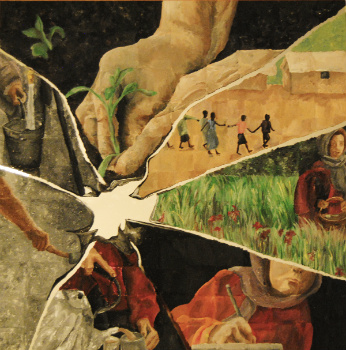 Artist Statement:
"The artwork is composed of seven images that highlight positive initiatives towards resilient development around the world. Whether it is the provision of safe drinking water, or increasing education opportunities or nurturing a sustainable community environment, the process of development begins by reaching out, by grabbing a hand, by a single gesture."
---
Third place: Calypso by Queenie Wong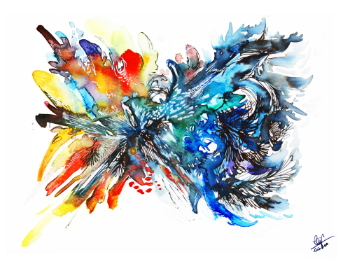 Artist Statement:
"Calypso is a watercolor-ink painting that captures the power of the individual person to be an agent of change. All great change comes from humble beginnings. This painting blossomed from a single line, a single brushstroke, and a single color. Similarly, single positive vision filled with optimism and hope can be enough to ripple effect and inspire hundreds to take action."
---
All entries were judged on the basis of creativity, quality, and originality, and on how well they demonstrate a positive vision of global development, positive change, and working together as global citizens.
Thank you to all the participants and congratulations to our contestants for being #AllForChange!