Life has changed for Sidjahona Upendo Aquile since he heard about the coronavirus; not just for him, but for his whole community.
"There is a change in mentality and attitude in terms of hygiene. Now, we wash our hands more often. People distance themselves while in queue. Public events have also been suspended," he says.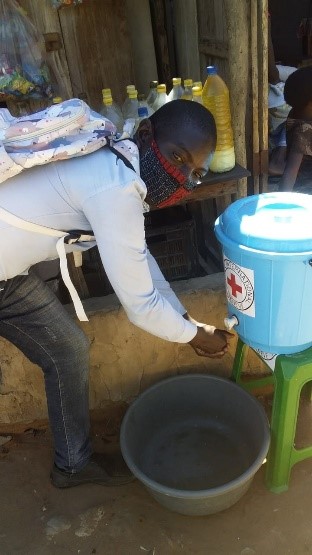 As a community health volunteer, Sidjahona continues to safely raise awareness about how to prevent COVID-19 dissemination in his community. As a vaccine for COVID-19 has yet to be produced, prevention is the only way to stop the spread of this disease. Community awareness is key to the success of such initiatives.
Armed with a mask and a bicycle, provided through a Canadian-funded health program that supports community health volunteers like Sidjahona, he speaks to many community members about the preventative measures they can implement to take care of themselves and their families.
"It is a way for me to contribute," he says. "I have seen that the people I speak to are gaining knowledge, and following the recommendations we give."
Access to Quality Care through Extending and Strengthening Health Systems (AQCESS) has been working through community volunteers to address pressing community health issues. As a result, volunteers like Sidjahona well-placed to support COVID-19 prevention initiatives, as they are already have strong relationships with community members.
It's easy to feel helpless in times like these. But Sidjahona encourages us all to be part of the solution.
"Each one of us can contribute by complying with prevention and hygiene measures, and sharing good, reliable information with those around us," he says.
AQCESS has supported over 1,000 community health volunteers like Sidjahona since 2016. This program is made possible through the support of Global Affairs Canada, as well as thousands of donors from across the country. Learn more about the program here.
Financial support: