In Afghanistan's rural northern provinces, the barriers to educating girls are diverse and always changing – but often, the solutions are simple. The Flexible Response Fund is a pilot program to support these solutions, by empowering communities to identify roadblocks to girls' education and develop proposals to tackle the challenge. The fund finances these community-led initiatives, often working in tandem with local education officials.
The $600,000 fund is part of the Girls' Education Support Program, a broader initiative working to improve access to better education for women and girls. The program is jointly funded by AKFC and Global Affairs Canada.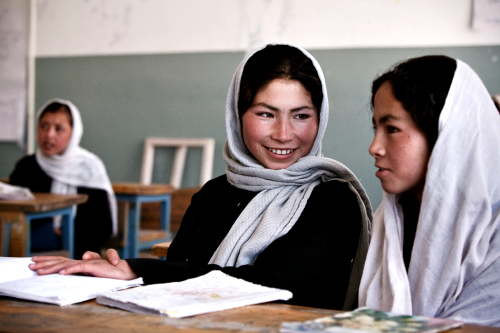 The Flexible Response Fund helps girls in Afghanistan enroll and stay in school, by financing community-led initiatives to break down barriers to girls' education. It is part of the broader Girls Education Support Program, which supports not only school-aged girls, but preschoolers, mothers, teachers, school administrators, community leaders, and government officials who make decisions that shape girls' learning opportunities.
The fund has helped more than 2,500 Afghans by funding a variety of initiatives, including:
transportation for teachers and students;
incentive payments for female teachers to teach in rural areas;
accommodations for young girls to attend school away from home;
accelerated learning classes for girls in areas with shortened school years;
costs of sitting the standardized college-entrance examination Kankur;
and community discussions to promote girls' education.
At the 2015 International Cooperation Days conference – held May 12-14, 2015 in Gatineau, QC – the Canadian Council for International Cooperation recognized the Flexible Response Fund with a Civil Society Innovation Award.
Undertaken with the financial support of: