Access to financial services like savings accounts and loans can be challenging in remote and rural communities.
This means that community members, especially women, are often left out of opportunities that require upfront capital, like starting or investing in a small business, making household improvements, or accessing health care.
As a business owner in Sermik, a rural village in a mountainous region in the Skardu District of Pakistan, Safia knows these challenges first-hand.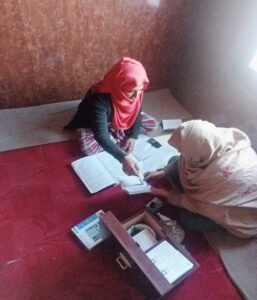 Safia and her sister Hameeda started their retail business in 2021 with only 20,000 rupees (about $125 CAD). Thanks to her local community-based savings group, established with Canadian support, Safia was able to secure the initial capital needed to launch their business. Their store sells grocery items, like spices, cooking oil, and soap, so members of their community can now get these items closer to home.
Community-based savings groups (CBSGs) are groups of 15 to 25 individuals who voluntarily join and manage savings and loan services. Members meet on a regular schedule and are encouraged to save their earnings consistently. Savings are maintained in a loan fund, which members can borrow in small amounts – loan terms, interest rates, and installment dates are set by the CBSG. From April 2021 to March 2022, AKFC helped train and establish 100 CBSGs in Pakistan.
In Pakistan, traditional and conservative gender norms mean that women are often limited to household or domestic work. But despite facing challenges and opposition to pursuing their business, Safia and Hameeda's shop was successful. They were also able to expand the business to some of the most remote areas in the district, where people, mostly women, had to travel many kilometers to purchase basic necessities.
With another loan from their savings group, Safia and Hameeda expanded their store's offerings. They started supplying dried fruits from different districts across the region, helping farmers access new markets and helping communities access different types of nutritious food.
As successful entrepreneurs, Safia and Hameeda are challenging gender norms and opening paths for other women in their community.