Since 1989, more than 500 young Canadians have participated in AKFC's International Youth Fellowship, a program that has launched diverse careers in government, non-profit, media, and finance.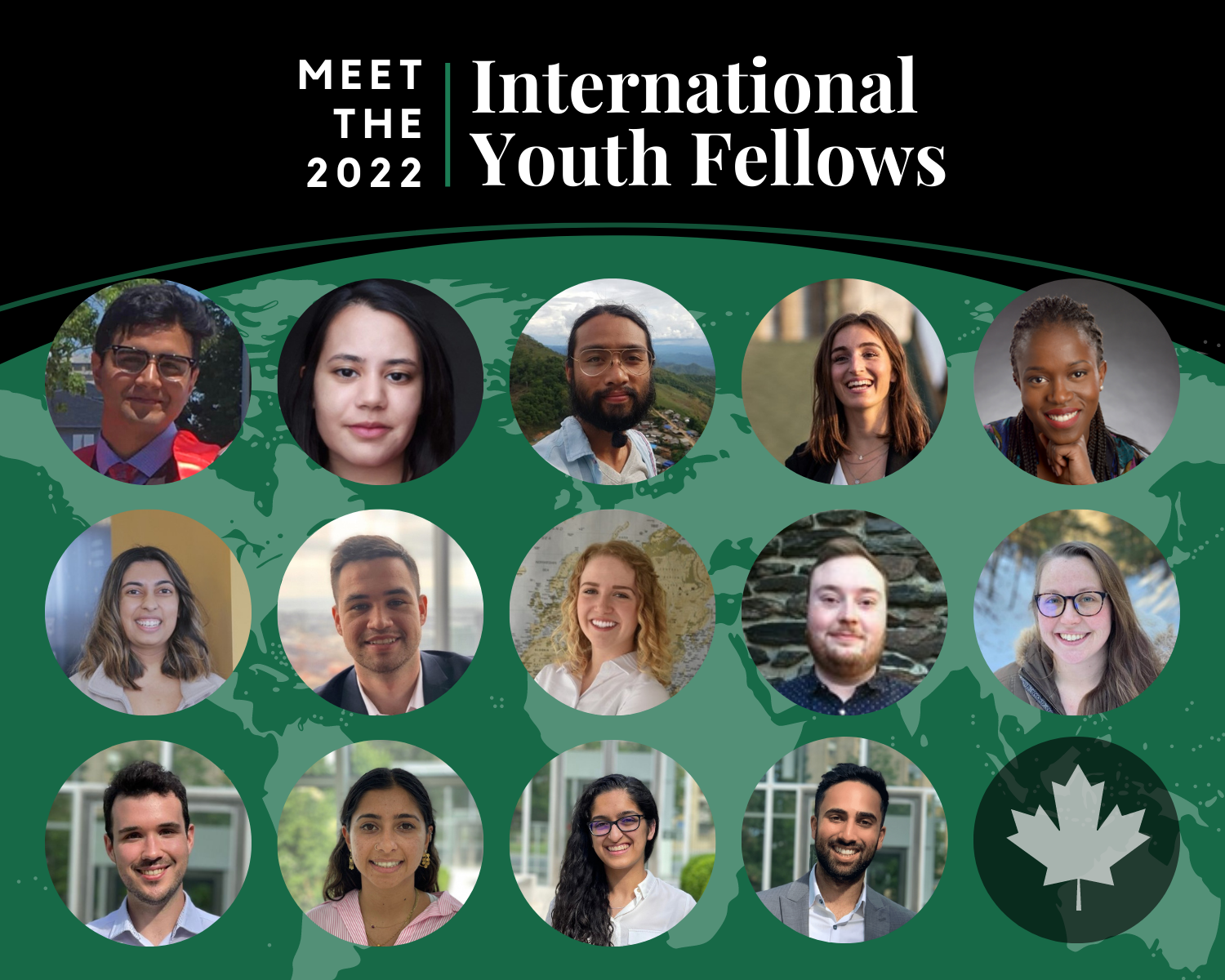 After a month-long training seminar in Ottawa this June, the Fellows departed for their eight-month overseas placements in Africa and Asia. Before they left, we spoke to a few to learn about their international development journey thus far.
---
Meet Emilie, originally from New Brunswick, who will be working in Kampala, Uganda as a Social Science & Social Behavior Change Fellow.
With a Bachelor of Interdisciplinary Leadership Studies from the University of New Brunswick, a Masters in Global Affairs from the University of Toronto's Munk School of Global Affairs, and a wealth of knowledge gained through volunteer and work in the non-profit, private, and public sectors, Emilie will build on her work and interest in international development, cross-sectoral partnerships, and human-centered programming during her Fellowship.
"I'm hoping to contribute to AKFC's global strategy on youth and adolescent engagement," she said. "I'm also excited to work with colleagues in Kampala to learn about best practices related to educational programming in crises, especially for refugee girls." During her Fellowship placement, Emilie will support the AKF Uganda team and the AGENCI project, a Canadian-supported program focused on empowering adolescent girls and female youth pursuing education in crisis-affected areas.
While Emilie's plethora of experiences has allowed her to travel to France, Argentina, and across Canada and Asia, she has not been to Kampala yet. "I'm particularly excited to discover local music, food, and ways of being and knowing," she said. "I have joined the Kampala Mountain Bike Club and look forward to remaining active while visiting parts of the country on two wheels!"
Born and raised in Edmonton, Alberta, Zain will be leaving the Rocky Mountains for the Ala-Too Mountains, supporting AKF Kyrgyz Republic as a Partnerships Fellow.
Having studied international development at McGill University, Zain wanted to build a career focused on reducing global inequality. However, during a summer internship, he discovered a second passion – education. "I enjoyed teaching and working with students so much that I saw education as a field within development that could create meaningful impacts," he said.
Zain views the Fellowship as a unique opportunity for young individuals like him to gain exposure to the field of development and find pathways into the sector.  He hopes to create positive impacts through gender, climate, cultural, and societal-sensitive projects. "For me, the AKFC Fellowship program was the perfect opportunity to gain technical field experience within international development and potentially find an opportunity to combine it with my passion for teaching and improving access to quality secondary education," he said.
Looking forward to his time in the Kyrgyz Republic, Zain is most excited to see the picturesque mountains and hike around the country. "Being from Alberta, I feel quite at home when I see long, towering mountain ranges around me, so I'm definitely going to find myself in my natural element in the Ala-Too Mountains. I'm also excited to try traditional food like shashlik, monty, lagman, plov, and kvasa!"
Hailing from Edmonton, Alberta, Jenna will be working in Kisumu, Kenya, pursuing her interest in international development and global health.
"I think that the field of international development gives perspective into different ways of life and allows for more empathy because our own biases and stories are challenged," said Jenna. "I applied to the Fellowship to challenge myself and my worldview, and to gain knowledge about other practices in the field of health."
Jenna will join Aga Khan Health Services as a Clinical Support Fellow. With a background in biology and public health, Jenna is interested in the nexus between social justice and health, with a particular passion for issues of climate change, migration, and gender-based violence. "Health is my passion," said Jenna. "I know that through my education in Canada, I learned about the field through a very specific lens. I'm hoping to expand that lens through this Fellowship, and to figure out my place in this very complex space."
Jenna's enthusiasm for her Fellowship placement also stems from a personal connection. "I have never been to Kisumu before, but I am so excited to work there!" she said. "My mom was born in Kisumu, in the hospital I will be working in, and so I am most excited to see where she grew up and to visit all of the places she has talked about since I was little."
Kit, who grew up in Calgary, will be working in Nairobi, Kenya, furthering his passion for water, sanitation, climate, and gender equality.
Inspired by a friend who worked at Engineers Without Borders, Kit's desire to work in a field that combined engineering, economics, culture, and geography sparked his interest in international development. "Going into university, I had a hard time narrowing down my interests," he said. "But Engineers Without Borders and the field of international development provided a path to explore all of them and make a positive contribution to society at the same time. My true passion lies at the intersection of water, sanitation, climate, and gender, and I can't wait to combine all these interests in this Fellowship program," he said.
With academic and professional experience in chemical engineering, water management, business development, and sustainability, Kit will join AKF East Africa as a Regional Climate Change Fellow, supporting AKF and the AKDN's work in climate resilience. "I'm excited to absorb the existing knowledge and expertise our East Africa and global colleagues have in this field already, and as quickly as I can, offer my knowledge in water management and contribute to the ideation and implementation of projects in Kenya, Uganda, and Tanzania."
Beyond the work, Kit is also excited to visit Nairobi for the first time. "This will be my first time in East Africa as a whole!" he said. "I'm looking forward to spending time in nature, visiting neighbouring countries, playing a lot of soccer and rugby, and seeing Lake Victoria and Mount Kilimanjaro in person."
---