It might look like a plain white metal cabinet. But for children living in this rural village in Kenya, it is a window to the world.
The cabinet is filled with storybooks.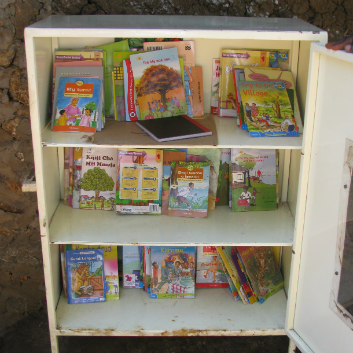 This village library is home to about 200 books, written in English and Swahili.
I visited this village library last fall, where I met Asha, the local librarian. She takes care of her village's books, written in Kenya's two main languages: Swahili and English.
"Village members nominated me as the librarian and now I'm a leader in the community," said Asha as she smiled broadly at her neighbours gathered in her yard, reading and browsing through colourful reading material.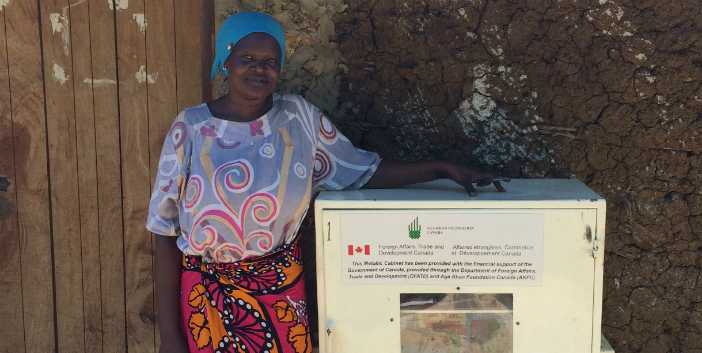 Asha was elected by her community to care for the village library in her rural region of Kenya.
We know that being read to as a child is one of the strongest predictors of academic success later in life. When a child is exposed to books and stories, they are more likely to become confident learners.
But a number of factors prevent children from benefitting from the simple activity of reading: a lack of books, low literacy levels, and no "culture" of reading to children for enjoyment.
Asha's library is part of an initiative called Reading for Children.
The initiative, supported by Aga Khan Foundation Canada and the Government of Canada, works with communities to ensure young children are exposed to illustrated books, develop their language abilities, and have enjoyable early learning experiences.
The program also helps parents and caregivers understand their role in supporting their child's early development and learning – and develops literacy skills among older siblings and adults.
Through this program, 850 community libraries have been established – and more than 2,800 parents in Kenya, Tanzania, and Uganda have learned about the importance of reading with their children.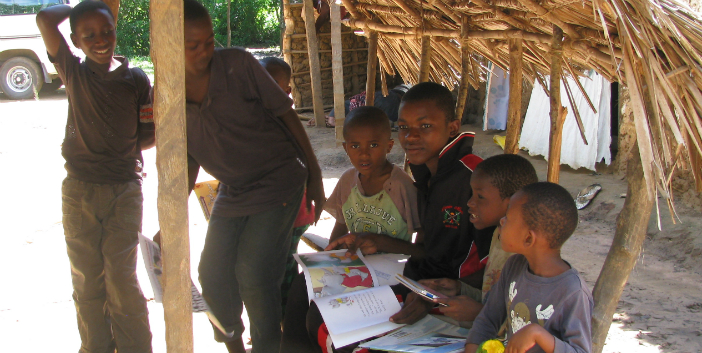 A group of local boys, reading in the shade of Asha's kitchen.
Here, outside Asha's house, community members from elders to infants gather to look over the books together, encouraging the children to read.
The village has a total of about 200 books that families can borrow to take home or read in the shade of her outdoor kitchen, protected from the hot sun of Kenya's coast.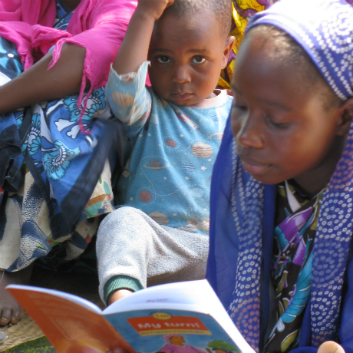 Mwanasiti reading with others in her community.
"Even though I know the books are meant for lower primary students, I read them since I cannot access story books like the way I get them through the village library," 12-year-old Mwanasiti told me.
Her father is one of the most active members of Asha's community. He has taken the message of Reading for Children to heart, and they never miss a village library session.
As Mwanasiti told me, "This has improved my composition skills and so I feel good when my parents read for me."
Katherine Morton is a Senior Program Manager with Aga Khan Foundation Canada.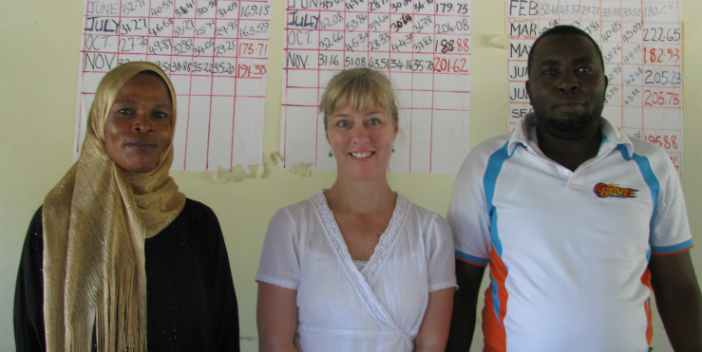 Katherine Morton, meeting with Rehema Ramudzi and Hassan Matungo, teachers in Mombasa, Kenya, during her recent visit to AKFC-supported programs in East Africa.
Learn more:
---
Financial support: