Executive Masterclass – Roshan: Light At The End Of The Tunnel In Afghanistan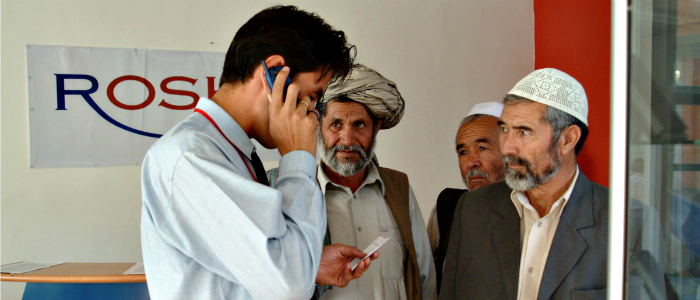 Roshan Telecom, established in 2003 at the height of the Afghan war, has been widely cited as an exemplary model of corporate social responsibility, bringing mobile connectivity, economic opportunity, healthcare, and education to Afghanistan. The story of Roshan is one of unexpected transformation: of a private sector enterprise contributing to the social and economic development of Afghanistan through mobile connectivity. And the lessons drawn from the Roshan experience have significant value well beyond Afghanistan.
The masterclass aimed to engage key Canadian stakeholders in a dynamic, interactive exploration of the Roshan experience as a means to inspire new thinking on the potential of private enterprise to spur transformative social and economic development, even in fragile contexts. It further provided a particular opportunity to examine the critical role that communications technology can play in supporting social and economic development globally – especially in remote or marginalized communities.
The Executive Masterclass used the 2010 Harvard Business School case study, Roshan: Light at the end of the tunnel in Afghanistan to enable participants to actively explore the successes, challenges and operating environment that Roshan had to navigate.
The masterclass was facilitated by Shawn A. Cole from Harvard Business School and Karim Khoja, CEO of Roshan, who provided additional insights, perspectives on evolving challenges and opportunities, not only in Afghanistan, but in other developing and emerging economies.
Event details:
This event has taken place.
---
Karim Khoja: Chief Executive Officer, Roshan Telecom, Afghanistan
Karim Khoja has over 25 years of experience in the telecommunications industry, including starting and managing extremely successful GSM companies in Pakistan, Poland, Croatia, Tajikistan and Afghanistan. Under his leadership, Roshan has grown to be Afghanistan's market leader, with more than six and a half million customers. Mr. Khoja started his GSM career as CEO for Mobilink in Pakistan, and then launched Era GSM in Poland. He then went on to spin out the mobile company, T Mobile, from the incumbent Croatia Telecom.
Over the course of the last eleven years, Mr. Khoja has dedicated his time to the Aga Khan Fund for Economic Development (AKFED) to bring competition and best practices to the telecommunication industry in Afghanistan and Tajikistan. He has focused not only on financial results, but also on how technology can be used to change lives. Recently AKFED has also expanded its operations in Africa, where Mr. Khoja serves on the Board of SMART Telecom.
Mr. Khoja serves on the Board of several international companies. He is the Chairman of the Afghan Investment Climate facility (Harakat), a £30m fund to encourage private enterprise, an advisor to the GSMA Development Fund and, until a year ago, an Associate Board Member of the Legatum Center at the Massachusetts Institute of Technology.
Shawn A. Cole: John G. McLean Professor of Business Administration, Harvard Business School
Shawn Cole is a professor in the Finance Unit at Harvard Business School, where he teaches and conducts research on financial services and social enterprise. Much of his research examines corporate and household finance in emerging markets, with a focus on insurance, credit, and savings. He has also done extensive work on financial education in the US and emerging markets. His recent research focuses on designing and delivering advice and education over mobile phones, with an emphasis on agricultural and financial management.
He has worked in China, India, Indonesia, South Africa, and Vietnam. He is an affiliate of the National Bureau of Economic Research, and the Bureau for Research and Economic Analysis of Development. He is on the board of the Jameel Poverty Action Lab, as the co-chair for research. Before joining the Harvard Business School, Professor Cole worked at the Federal Reserve Bank of New York in the economic research department. He has served on the Boston Federal Reserve's Community Development Research Advisory Council, serves as an external advisor to the Gates Foundation, and was the chair of the endowment management committee of the Telluride Association, a non-profit educational organization.
He received a Ph.D. in economics from the Massachusetts Institute of Technology in 2005, where he was an NSF and Javits Fellow, and an A.B. in Economics and German Literature from Cornell University. His work on insurance earned the 2015 "Shin Research Excellence Award;" in 2015 he was also named given a "Faculty Pioneer Award" from the Aspen Institute.
---
Undertaken with the financial support of: