Measuring Development Impact: Can Randomized Control Trials transform development?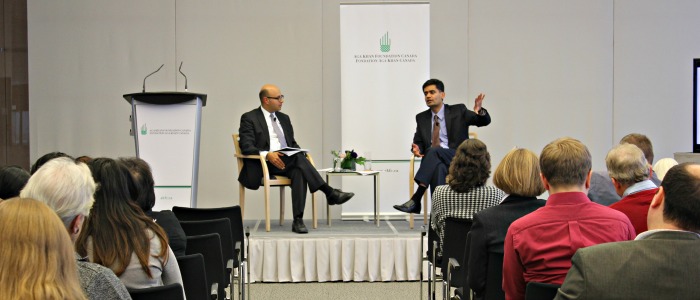 Demonstrating impact and understanding causality is a struggle that many international development organizations face. From assessing the effectiveness of bednets in preventing malaria, to understanding why immunization programs sometimes yield mixed results, the challenge of proving why certain interventions work and others do not lies at the heart of every impact evaluation.
On February 4, 2016, Iqbal Dhaliwal, Deputy Director of the Abdul Latif Jameel Poverty Action Lab (J-PAL) discussed how Randomized Control Trials (RCTs) are changing the way many organizations measure and evaluate impact, in the first event of Aga Khan Foundation Canada's series Measuring Development Impact.
Hailed as the gold standard by some, RCTs have become the subject of lively debate amongst development practitioners, economists and policy makers. Mr. Dhaliwal's presentation drew upon seminal studies in health and education to address many of the concerns raised by this approach, outlining the advantages and limitations of RCT evaluations.
"In development we do not have a shortage of solutions, but rather we have a multitude of solutions," Dhaliwal observed, "the question is, how to choose the one [that works]."
Since 2003, J-PAL has been championing the use of RCTs and randomized evaluations to test and improve the effectiveness of programs and policies aimed at reducing poverty. With over 685 evaluations in 64 countries, J-PAL has developed a large evidence base, which has been used to inform development efforts around the world. "Think of evidence (RCTs) as an ally rather than a threat … as a tool in your arsenal to get better, and grapple with this problem of poverty whether it is here or in developing countries."
Watch Mr. Dhaliwal's presentation, "Can Randomized Control Trials transform development?" to learn more about RCTs, when they should be used, what questions they can answer, and how the connect to key trends in international social experiments.
---
Iqbal Dhaliwal is the Deputy Director of J-PAL and the global head of Policy. He works with policymakers in governments, development organizations, foundations and NGOs to disseminate the policy implications of research, identify new field evaluations, and implement the scale-up of successful programs. He coordinates J-PAL's eight sector programs and management practices across the six regional offices. He is a member of the Board of Directors' Executive Committee that sets J-PAL's overall strategy and provides guidance and oversight to staff worldwide. He also serves as Scientific Director for J-PAL South Asia, Co-Chair of J-PAL's Government Partnership Initiative, and is an advisory board member of Evidence Action. From 2011-2014, he was Co-Chair of J-PAL's Governance Initiative.
Before joining J-PAL in 2009, Iqbal was a director in the Economic Analysis practice of a consulting firm in Boston where he managed numerous engagements involving antitrust issues, regulation, and strategy. Earlier, he was a member of the Indian Administrative Service (IAS) where he worked on many policy issues during stints as a deputy secretary in a state government, director of a statewide welfare department, and managing director (CEO) of a publicly owned company.
He has a B.A. (Honors) in Economics from University of Delhi, an M.A. in Economics from Delhi School of Economics, and an MPA (Development Studies) from Princeton's Woodrow Wilson School of Public and International Affairs.
---
Undertaken with the financial support of: