The University of Central Asia's (UCA) first undergraduate campus opened its doors in 2016 in Naryn, Kyrgyz Republic, and 
welcomed the future class of 2021.
UCA was founded in 2000 by His Highness the Aga Khan and the presidents of Kazakhstan, Kyrgyz Republic, and Tajikistan. Aiming to promote the social and economic development of Central Asia, the university also helps preserves the region's rich cultural traditions and heritages as assets for the future.  
Nestled in a rural mountain community, UCA immerses students in a fully residential campus environment. This encourages students from across Central Asia to exchange ideas and learn from each other, promoting diversity and pluralism. 
Many of the university's undergraduate programs were made possible through academic partnerships with Canadian institutions. A partnership with Seneca College in Toronto produced the Preparatory Programme, a cross-disciplinary foundational one-year program for students of all disciplines. Partnerships with the University of Toronto, University of British Columbia, and the University of Victoria also paved the way for UCA's Computer Science, Earth and Environmental Sciences, and Cooperative Education programs.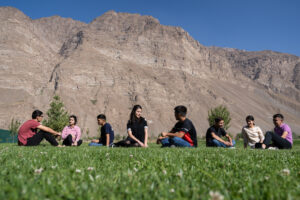 As we celebrate the class of 2021, we caught up with Shabana Manji, UCA's Senior Manager of Student Affairs. Shabana is a Calgary-native and former AKFC staff member who was part of the inaugural staff in Naryn.
What is your role at UCA today?
As Senior Manager of Student Affairs, I manage the Student Affairs team on both campuses and liaise closely with the Campus Counselors. I am also on both Campus Management Teams and represent the students on our Management Executive Forum.
I've been lucky enough to live in both countries, on both campuses, and get to know almost all of the students!
How has Naryn changed since you first arrived?
In recent years, having more students hailing from the Naryn Oblast region has increased awareness within the community. But so has students' active community engagement with local organizations, Naryn State University, and local high schools. UCA students are making a difference through initiatives like English and math tutoring, local environment and recycling awareness initiatives, and local debate and Model UN programs.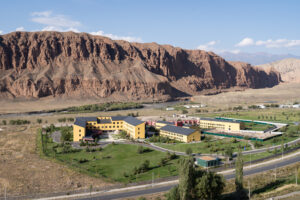 What makes UCA unique?
From first seeing the beautiful building in the middle of the mountains to meeting life-long friends while gaining a world-class education, the university experience offered by UCA is entirely unique.
Because our campuses are fully residential, we have not only created a community, but a tiny city. Our students enjoy a full canteen and sports facilities, strong leadership programming and events, community services and live-in faculty.
But as the university grows, so too does our commitment to improving student experience. Our senior management engages with students regularly, sharing meals and asking questions to ensure we are giving our students a university experience that meets their needs.
What are you looking forward to most for the next five years?
I'm looking forward to seeing how our graduating class embraces the future. The class of 2021 is strong and determined, only expecting the best of themselves. I am excited to see them accomplish their goals, no matter how ambitious.
It will also be a delight to see how our current preparatory group transforms when it's their turn to graduate in five years. I am sure they will only be able to build upon the strong foundations their alma-mater have created for them.
I'm also looking forward to seeing how Naryn and Khorog develop, with our students graduating year by year and creating opportunities within their communities.
We're celebrating UCA's inaugural undergraduate class by featuring stories from students and staff about their experiences.